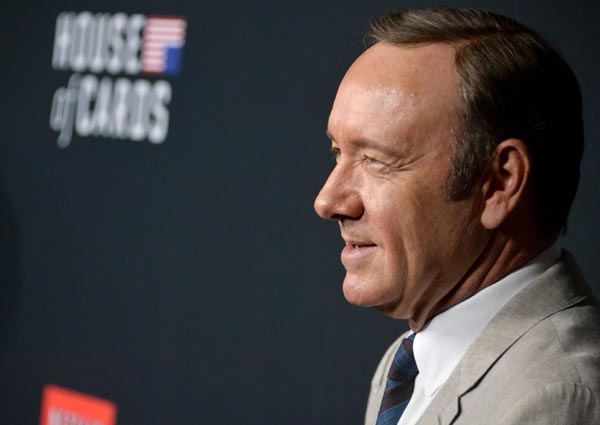 Executive producer and actor Kevin Spacey draws a big crowd of fans in China as Season 2 of House of Cards debuted simultaneously in China and the United States. Photos Provided to China Daily
The comeback of House of Cards brings joys to many Chinese viewers. But ap
art
from providing a glimpse into politics in the United States, analysts tell Wang Kaihao that the popular drama series depicts a shift in stereotypes of China.
On Feb 14, Valentine's Day had a romantic rendezvous with Chinese Lantern Festival. For many single white collars all over China without dates or activities on that day, perhaps one of the best holiday gifts is the comeback of House of Cards, the US political drama television series produced by online streaming media provider Netflix.
"I have been waiting for season two for a whole year," says a veteran American television series fan Li Junmei, from Nanjing, capital of Jiangsu province. "I like Kevin Spacey and David Fincher, but I have little knowledge about US politics."
Li says this show, which depicts Frank Underwood, a fictional Democrat politician climbing up the power strata using contemptible methods, arouses her interest to learn about the White House and the US congress.
"I have to refer to Baidu (China's major search engine) many times within one episode to understand better what the protagonists are talking about, but I don't feel tired. The plot and pace of the series are so captivating."
Her views are shared by many Chinese fans. Feng Hangeng, an IT engineer based in Shenzhen, Guangdong province, says: "You cannot miss a show recommended by President Obama. Everything appears authentic. It's a good opportunity to have a vivid view of what's going on in Washington DC."