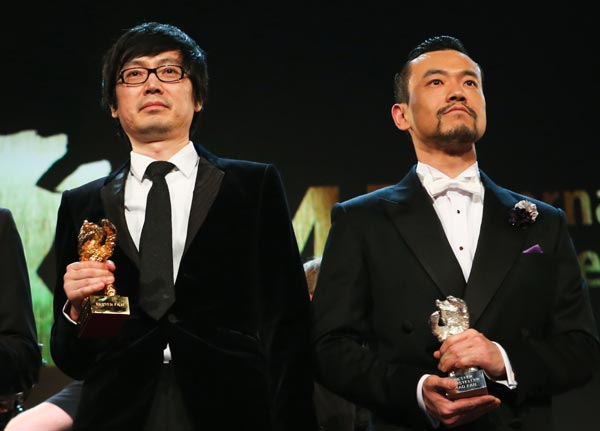 Diao Yinan, writer-director for Black Coal, Thin Ice, with the Golden Bear and Liao Fan, the lead actor of the movie, with the Silver Bear at the 64th Berlin International Film Festival. Zhang Fan / Xinhua
The re-emergence of Chinese films on festival circuits may point to parallel growth of
art
-house cinema along with the nation's booming film industry, writes Raymond Zhou.
The winning of the top prize at a prestigious international film festival by a Chinese submission may speak as much about the state of Chinese cinema as the international perception of a certain body of Chinese work.
The surprise ending of Black Coal, Thin Ice, a yet-to-be released film by a little-known Chinese auteur, taking home the coveted Golden Bear at the 64th Berlin International Film Festival has filled the home audience with more perplexity than euphoria. Of the three movies selected for the main competition of the festival, No Man's Land by Ning Hao has already become a critical and commercial darling in its home market, and Blind Massage, though not yet released, is adapted from an award-winning best-seller. To most Chinese, Black Coal, Thin Ice had been an unknown quantity heavily discounted in crystal-ball gazing for award results.
Yet, it has now been revealed that this film, among all three Chinese contenders, was the first picked by the festival curators, and just to show the keenness of their foresight, was the favorite of the jury as soon as they watched it. It was the frontrunner all along even though it had eluded prognosticators who use name recognition as a major yardstick.
Since deliberations by the jury were not available to the public, what follows is one man's educated conjecture on what might have swayed the jurors.
Related:
Chinese directors master Nordic noir, shoot-'em-up Western