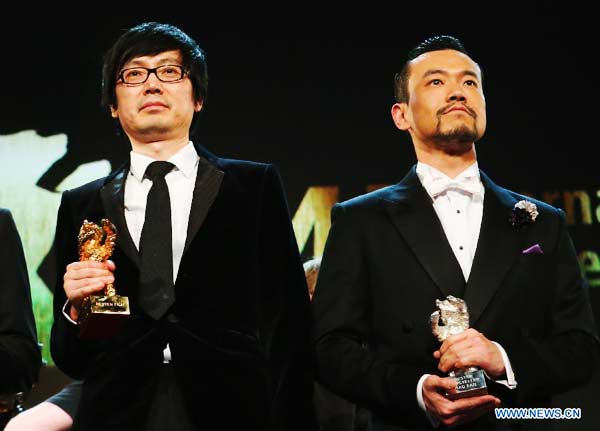 Director Diao Yinan (L) of "Black Coal, Thin Ice" , winner of the Golden Bear for the Best Film, and Liao Fan, winner of the Silver Bear for Best Actor for "Black Coal, Thin Ice", pose for photos during the awards ceremony at the 64th Berlinale International Film Festival in Berlin, Feb 15, 2014. [Photo/Xinhua]
Chinese film "Bai Ri Yan Huo (Black Coal, Thin Ice)" won the Golden Bear, the top jury prize awarded to the best film in the 64th Berlin International Film Festival on Saturday.
Chinese director Diao Yinan's noirish thriller beginns with a grisly discovery of several corpses in 1999. Five years later, another series of mysterious murders occurs. Detective Zhang discovers that all the victims were connected to Wu Zhizhen, a young woman who works at dry cleaners, but he finds himself falling in love with her. On one cold winter's day, he makes a horrific discovery.
Chinese actor Liao Fan, who played a role of detective Zhang in the film, won the Silver Bear for Best Actor.
"Black Coal, Thin Ice", one of the 20 films competing Gold Bear, saw its world premium in the 64th Berlinale. Director Diao graduated from China's Central Academy of Drama in 1992 and has directed two films of his own, "Uniform" in 2003 and "Night Train" in 2007, which premiered at the Cannes.
"The award belongs to me, to my wonderful team and to film," said director Diao at the awarding ceremony, while expressed thanks to his wonderful team and his filmmarker.
Silver Bear Grand Jury Prize went to "The Grand Budapest Hotel", a U.S. production, directed by Wes Anderson. The star-studded film recounts adventures of Gustave H, a legendary concierge at a famous European hotel between the wars, and Zero Moustafa, the lobby boy who becomes his most trusted friend.
Silver Bear for Best Actress was awarded to Japanese actress Haru Kuroki for her excellent performance in the film "The Little House".
American director Richard Linklater won Silver Bear for Best Director with his 12-year-long unique feature film "Boyhood". The Best Script was taken by Dietrich Brueggemann and his sister Anna Brueggemann for the movie "Stations of the Cross".
Other Silver Bears were the Outstanding Artistic Contribution to Chinese cameraman Zeng Jian for the camera work in "Blind Massage", and Alfred Bauer Prize to French movie "Life of Riley", which was directed by Alain Resnais.

Related: 64th Berlin International Film Festival kicks off
Strong Chinese turnout in this year's Berlin Film Festival