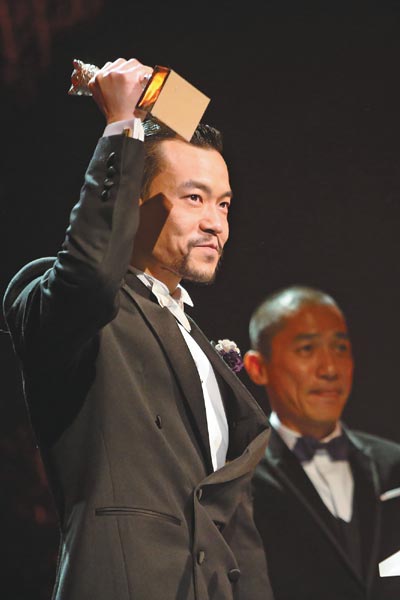 Liao Fan becomes the first Chinese actor to win the Silver Bear for Best Actor for Black Coal, Thin Ice at the 64th Berlin International Film Festival on Saturday. The film also took home the award for best film at the festival. Photo by Zhang Fan / Xinhua
Chinese productions reaped abundant praise at the 64th Berlin International Film Festival over the weekend, which shows Chinese filmmakers are more confident and more open to the world.
The Chinese film Black Coal, Thin Ice won the Golden Bear for the Best Film; Chinese actor Liao Fan won the Silver Bear for Best Actor for his performance in the film; and Zeng Jian won the Silver Bear Award for an Outstanding Artistic Achievement for the film Blind Massage. The winners were announced on Saturday local time.
The Berlin event is one of the best-known European film festivals, along with those in Venice and Cannes, at which up to 400 films are shown and about 20 films compete for the Golden and Silver Bear awards.
Gold Bear-winning Black Coal, Thin Ice begins with a grisly discovery of several corpses in 1999. Five years later, another series of mysterious murders occurs. Detective Zhang discovers that the victims were all connected to Wu Zhizhen, a young woman who works at dry cleaners, but he finds himself falling in love with her. On a cold winter's day, he makes a horrible discovery.
Silver Bear winner Liao Fan played the role of detective Zhang.
"I wanted to make a detective film featuring life in contemporary China. My aim was not only to investigate a mystery and find out the truth about the people involved, but also to create a true representation of life in today's China," film director Diao Yinan said.
"The film revolves around a horrific homicide and its elusive perpetrator. The process of investigation highlights an individual at war with himself and his road to self-realization and redemption. Indecision, cowardice, treachery and the impulse to surrender to social norms - these are weaknesses that come from the negativity and passivity of the human heart. They may cloud an individual's mind, but they can also become the source of humanity," he said.
Related:
Chinese directors master Nordic noir, shoot-'em-up Western