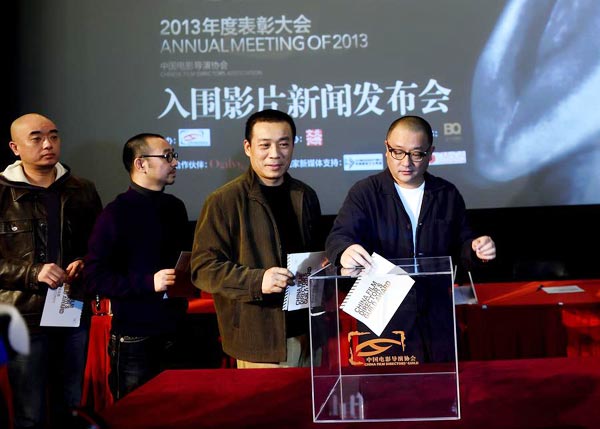 Director Wang Xiaoshuai (R) votes for the 5th China Film Directors' Guild Award during a news conference held in Beijing on March 17, 2014. [Photo/Xinhua]
Jia Zhangke's "A Touch of Sin" and Xue Xiaolu's "Finding Mr. Right" are among the 20 films competing for the 5th China Film Directors' Guild Award, announced director Wang Xiaoshuai, one of the judges on March 17 in Beijing.
The award will honor best film, director, actor, actress, scriptwriter, young director, and Hong Kong and Taiwan director of the past year. Further nominations for every award will be announced on Mar 24. The guild, boasting 317 members, will also honor one director for outstanding contributions in 2013. There will also be one film which will receive the "Special Grand Prize" as selected by a jury made up of veteran directors such as Tian Zhuangzhuang and Li Shaohong.
Film in competition
1. A Touch of Sin by Jia Zhangke
2. Finding Mr. Right by Xue Xiaolu
3. No Man's Land by Ning Hao
4. So Young by Zhao Wei
5. Blue Bone by Cui Jian
6. Beijing Flickers by Zhang Yuan
7. Fly with the Crane by Li Ruijun
8. China Affair by Zhang Ming
9. Don't Expect Praises by Yang Jin
10. An End to Killing by Wang Ping
11. Kuiba II by Wang Chuan
12. Angry Kid by Huang Lei
13. Police Story 2013 by Ding Sheng
14. Xiao Hong by Huo Jianqi
15. The Chef, The Actor, The Scoundrel by Guan Hu
16. My Running Shadow by Fang Gangliang
17. Never Look Back by Wang Jingguang
18. Young Style by Liu Jie
19. Einstein and Einstein by Cao Baoping
20. Today and Tomorrow by Yang Huilong
Related: Top 10 box office hits in 2013