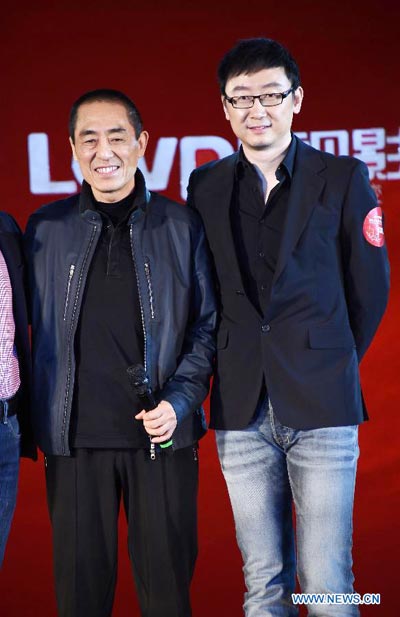 Director Zhang Yimou (L) poses for a photo with honored guest Lu Chuan during the press conference of his new movie "Return" in Beijing, capital of China, March 13, 2014. The movie in which starred by Gong Li and Chen Daoming will be screened in May. [Photo/Xinhua]
Zhang Yimou's new
film
, Return, will be in IMAX 4k, the first domestic film to use the technology.
IMAX refers to the size of the giant screen on which the film will be shown, while 4k refers to the clarity of the film.
The film, to be released in May, focuses on a writer's ups and downs during the Cultural Revolution (1966-76).
It is now in post-production, Zhang said, attending the press conference Le Vision Pictures held to announce its 2014 film agenda on March 13.
The film is the top priority of Le Vision for 2014, according to CEO Zhang Zhao.
Le Vision will release a variety of other pictures during the year as well, including the action thriller The Expendables 3, the romance Tiny Times and John Woo's new film The Crossing.
Le Vision signed a three-year contract with Zhang in May after the 64-year director left his old producer Zhang Weiping and the Beijing New Picture Film Company.
On the press conference Le Vision also announced that Lu Chuan, director of City of Life and Death and Kekexili: Mountain Patrol, has joined Le Vision, too.
For more coverage on Zhang Yimou, click here