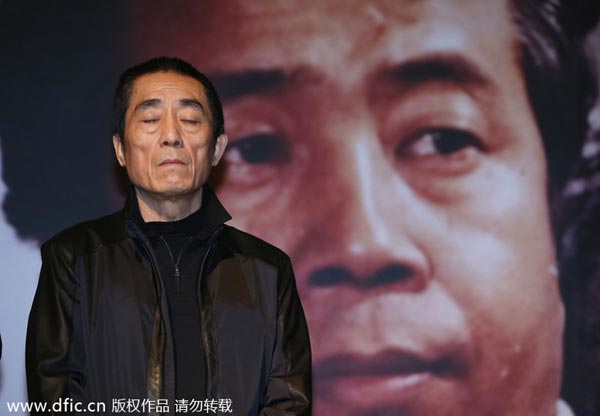 Chinese director Zhang Yimou mourns deceased director Wu Tianming during a memorial meeting at Beijing Film Academy in Beijing, China, 10 March 2014. [Photo/Icpress]
China's well-known "fifth-generation" directors gathered at the Beijing Film Academy to mourn their respected teacher Wu Tianming on March 10, expressing gratitude and respect for the "Godfather" of China's film industry in the 1980s.
Wu died from heart failure on March 4, at the age of 75.
Under Wu's leadership, directors including Zhang Yimou, Tian Zhuangzhuang and Gu Changwei made their names. Wu was known for cultivating young directors in the 1980s, many of whom have become successful filmmakers at home and abroad, including Chen Kaige and He Ping.
"He was my talent scout, and the talent scout to the fifth-generation filmmakers in China," said Zhang Yimou at Wu's memorial. "Without Wu's support, my first film, Red Sorghum, would never have had the chance to be produced," Zhang said.
When Red Sorghum was about to be filmed in 1987, Wu helped raise 30,000 yuan ($4,890) for Zhang to plant a large sorghum field, for a key scene in the movie. Zhang said the success of Red Sorghum changed and influenced his entire career.
Zhang Huijun, president of the Beijing Film Academy, said the film industry needs more talent scouts like Wu, who promoted lots of talented young directors during his reign at Xi'an Film Studio.