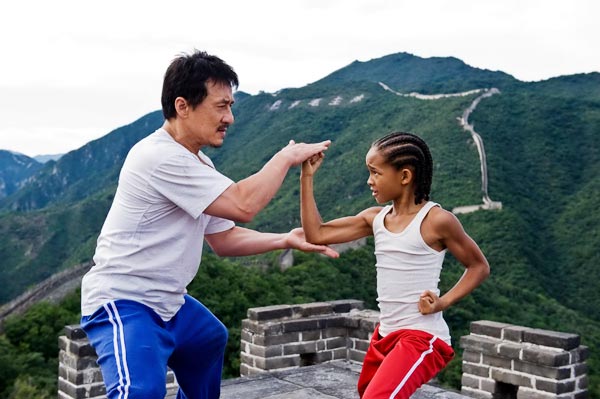 Jackie Chan plays a fighting master in both Chinese and Hollywood movies, such as The Karate Kid (2010) co-starring Jaden Smith. Photos Provided to China Daily
Foreign audiences know very little about Chinese movies, except for the
kung fu
heroes, according to a recent survey. Xu Lin dissects the study.
When it comes to Chinese movies, foreign audiences know kung fu heroes, such as Jackie Chan, Bruce Lee and Jet Li. But that's about it, according to a report by the Academy for International Communication of Chinese Culture.
The academy unveiled its 2013 Research of International Communication of Chinese Film Culture in late February at a news conference at Beijing Normal University. The report aims to investigate foreign audiences' attitudes toward Chinese movies and culture. The quantitative study compiled 1,436 questionnaires from 99 countries.
"Action and kung fu movies play an important role in promoting Chinese culture. We should strengthen theory and technological innovation about them, with investment and policy to support their promotion overseas," says the academy's dean Huang Huilin, who initiated the annual project in 2011.
The research shows that the Chinese film market is still immature. Foreign audiences go for only Chinese action, kung fu, historical or war movies and comedies, and they are least interested in Chinese musicals and horror films.
About half of them favor action and kung fu movies because of the martial arts.