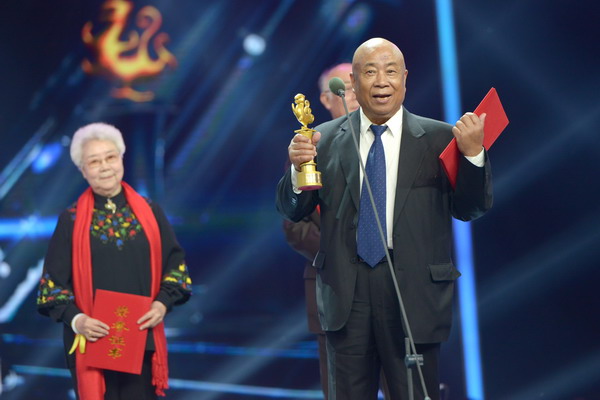 Wu Tianming receiving an award for his role in Zhang Yang's comedy Full Circle at the closing ceremony of the 20th University Student Film Festival on May 13,2013. [Photo/CHINA PHOTO PRESS]
Without Wu Tianming, renowned film directors such as Zhang Yimou and Huang Jianxin would have had a much more difficult time entering China's film industry and the film revolution created by the so-called "Fifth Generation" might not have happened or at least would not have taken the shape that it did.
Wu Tianming, the enabler of a major chapter in the history of Chinese cinema, died on March 4 from heart failure. He was 75.
The native of Shaanxi province started making movies in the late 1970s. He was immersed in the traditional style known as "social realism" with many of his stories portraying rural life as unvarnished and bleak, yet totally different from the ones made by his proteges shortly afterwards.
Two of his movies made a huge impact when they were released. Life (1984) is about an urban youth who was sent away to the hinterland, who ended up in love with a local girl. He faced the moral dilemma when he had a chance to return to his erstwhile, relatively more prosperous living: either to leave his sweetheart or condemn himself to eternal hardship.
It was a dilemma of a whole generation of Chinese youths and an echo of an ancient tale with similar moral quandary. Though retaining a tinge of melodrama, it resonated with a wide swath of Chinese society at the throes of ridding itself of the vestiges of the "cultural revolution" (1966-76).