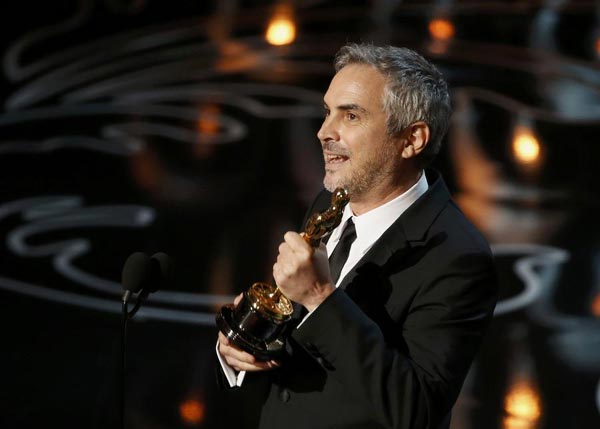 Alfonso Cuaron accepts the Oscar for best director for "Gravity" at the 86th Academy Awards in Hollywood, California March 2, 2014.[Photo/Agencies]
BEIJING - A Chinese spaceship plays a key part in Dr. Ryan Stone's thrilling journey back to Earth in the Oscar-winning film "Gravity."
In real life, the chief designer of China's spaceships found the film more than merely entertaining; it was "very inspiring."
Zhang Bonan, chief designer of the country's spaceship program, told Xinhua on Thursday that he had a professional interest in the movie.
As a national legislator, he is in Beijing attending the ongoing annual parliamentary session, and was happy to discuss how "Gravity" both reflects and affects his work in the week in which it won seven Oscars, including the heavyweight Best Director award.
"I am glad a foreign film portrays China's space program," he said. "It is a good promotion of us.
"The parts in the film about China's space station and spaceship are largely fictional. But I got a few ideas from them."
For instance, it is important to prepare for the threats from space debris, especially on the near-Earth orbit, he said.
In the film, pieces of debris hit a US shuttle and completely change the fate of four astronauts, including the only survivor of the crash, Dr. Stone, played by Sandra Bullock.
Although the film's presentation of the waste matter floating about in space is a bit too dramatic, such accidents might happen if human beings do not keep the near-Earth orbit uncluttered, Zhang said.