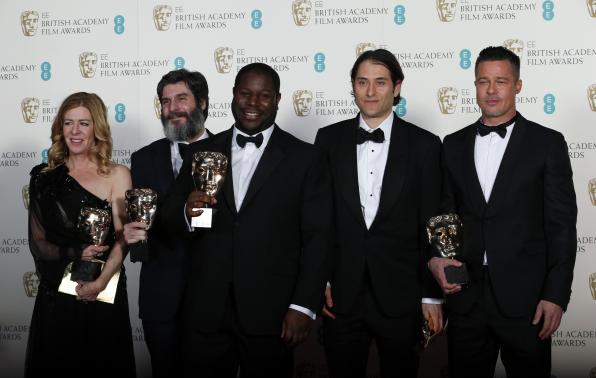 Director Steve McQueen (C) celebrates with Dede Gardner (L-R), Anthony Katagas, Jeremy Kleiner and Brad Pitt after winning Best Film for "12 Years a Slave" at the British Academy of Film and Arts (BAFTA) awards ceremony at the Royal Opera House in London February 16, 2014. [Photo/Agencies]
The harrowing drama "12 Years a Slave" won the Best Film award at Britain's top
movie
honors on Sunday, cementing its status as favorite for the Oscars next month, but it was the space thriller "Gravity" that claimed the biggest trophy haul.
"12 Years a Slave", by British director Steve McQueen with Hollywood's Brad Pitt as a producer, had been tipped as the night's major winner and also won Best Actor for Chiwetel Ejiofor as a man tricked and sold into slavery in the pre-Civil War United States.
But "Gravity", starring Sandra Bullock and George Clooney, took home six prizes from its 11 nominations, including the Best Director prize for Mexican Alfonso Cuaron and the awards for Cinematography and Outstanding British Film.
McQueen, 44, said it was horrifying that 21 million people were still living in slavery around the world now.
"I hope that, 150 years from now, our ambivalence will not allow another filmmaker to make this film," he told the ceremony at London's Royal Opera House.
McQueen, a video artist as well as a director, previously won kudos for his 2008 film "Hunger", about an IRA hunger strike in Northern Ireland, and won Britain's top visual art award, the Turner Prize, in 1999 for a video based on a Buster Keaton film.
Pitt, whose partner Angelina Jolie accompanied him to the ceremony, dressed like him in a tuxedo, said he was proud of the film, based on the real story of Solomon Northup.
"It is a story that says we are all the same, and our freedom and dignity is everything, and that is what we are fighting for," Pitt told a news conference.
The Hollywood power couple were among a list of stars who descended on London for the British Academy Film Awards (BAFTAs), which come two weeks before the Academy Awards and are widely seen as indicators of Oscar success.
On the red carpet ahead of the ceremony, the most watched film awards outside the United States, stars including Leonardo DiCaprio, Oprah Winfrey, Tom Hanks and Britons Judi Dench and Emma Thompson mingled with fans.