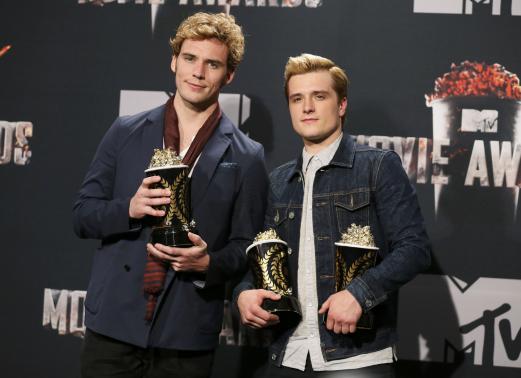 Actors Sam Claflin (L) and Josh Hutcherson pose backstage with their award for Best Movie of the Year and Hutcherson's award for Best Male Performance for the film "The Hunger Games: Catching Fire" at the 2014 MTV Movie Awards in Los Angeles, California April 13, 2014. [Photo/Agencies]
Young adult favorite "The Hunger Games: Catching Fire" was voted 'movie of the year' and scooped top acting honors at the MTV Movie Awards on Sunday, reflecting the irreverent ceremony's appeal to young fans.
The second installment of the hugely popular "Hunger Games" books beat out this year's Oscar best picture winner "12 Years a Slave" in online voting that continued through much of the show.
Jennifer Lawrence and Josh Hutcherson won best female and male performances for their roles as Katniss and Peeta, the two youths fighting to give hope to an oppressed society.