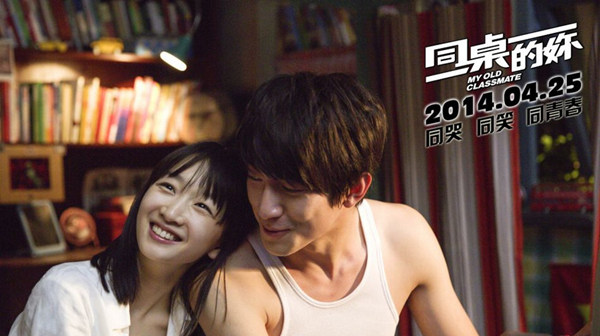 A poster of "My Old Classmate".[Photo/Xinhua]
"My Old Classmate," a Chinese love story inspired by a namesake popular song in the 1990s, ruled China's box office in the week ending April 27, according to a film industry weekly.
The film tells of the romance between two deskmates spanning across 20 years and stars Zhou Dongyu, a Chinese actress who rose to fame in the leading role in Zhang Yimou's 2010 "Under the Hawthorn Tree", and grossed 11.1 million yuan (1.76 million USD) in the three days since its debut on April 25, according to figures released by China Film News on Tuesday.
The previous week's champion, "Captain America: The Winter Soldier," an American superhero movie featuring Marvel Comics character Capitain America, dropped to third place with 56 million yuan in box office last week, as its total gains in China reached 66.4 million.
"Ice Man," a kungfu movie starring Chinese actor Donnie Yen, was second place with 72 million yuan since its debut on April 25th.