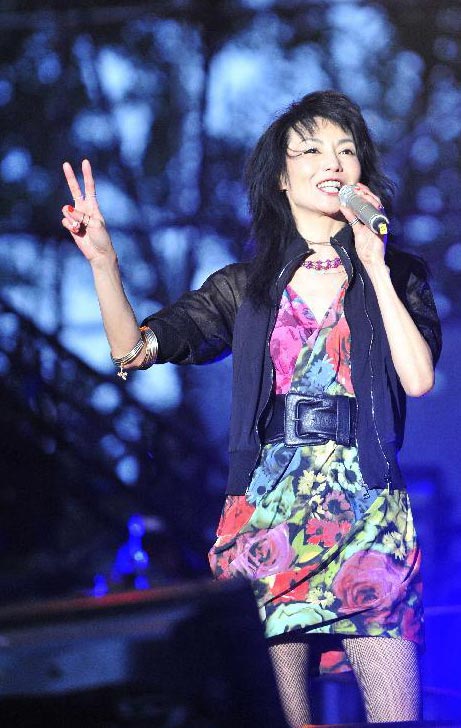 Hong Kong film star Maggie Cheung performs during the 2014 Strawberry Music Festival in Beijing, capital of China, May 3, 2014. [Photo/Xinhua]
After an out-of-tune performance at the Strawberry Music Festival on the outskirts of Beijing on Saturday, Chinese actress Maggie Cheung jokingly asked her fans to give her 20 chances to perform a good song.
Cheung is revered as one of the greatest Hong Kong actresses ever. The 50-year-old fashion icon introduced her new rock band at the festival. However, as soon as Cheung opened her mouth, the crowd fell silent.
During her rendition of Rihanna's "Stay," Cheung seemed to do everything but stay in tune. Some audience members decided to leave after 10 minutes of watching her perform, and even a few yelled for refunds.
On May 1 Cheung performed at the Shanghai Strawberry Festival, where her delivery of iconic singer Teresa Teng's "Tian Mi Mi" was also poorly received.
"I know I was out of tune in Shanghai, so I searched on Baidu (China's equivalent of Google) 'How not to go out of tune.' Maybe I spelled the words wrong, or for some other reason, I couldn't find an answer. So today I'll continue to go out of tune," joked Cheung before she sang in Beijing.
"After starring in more than 20 films, I was still called a flower vase (a term used to describe actresses that are beautiful but have no acting talents). So, please give me 20 more chances!"