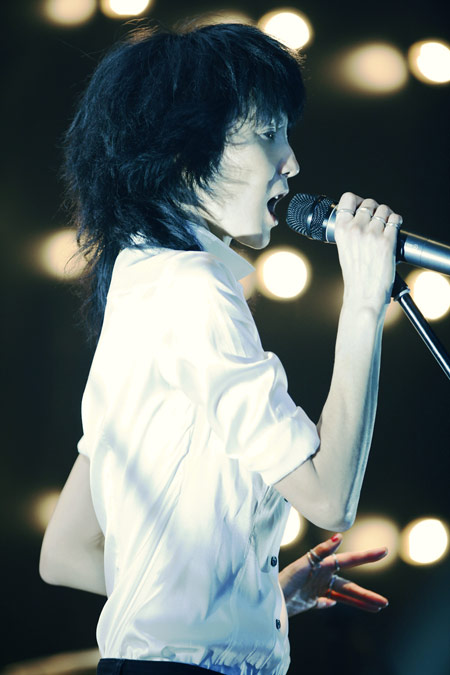 Maggie Cheung will take the stage a in Beijing and Shanghai, performings a singer-songwriter for the first time songs she wrote herself with her band. Photos provided to China Daily
Unlike the Midi Music Festival-the country's oldest outdoor music bash, which is known for its serious reputation among Beijing's hard rock, metal and punk lovers-the annual Strawberry Music Festival has been a popular gathering place for trendy young music fans.
In its fifth year, the three-day outdoor music event will continue offering a feast for audiences with over 100 bands and singers from around the world. It will be headlined by French electronic music duo Justice, American post-rock band Explosions in the Sky and a collection of Chinese indie bands. The festival will also expand into nine cities around China, including Beijing, Shanghai, Wuhan, Xi'an and Xiamen.
However, what makes this year's Strawberry Music Festival special is Maggie Cheung, the Hong Kong award-winning film actress, who will perform as a singer-songwriter for the first time in Beijing and Shanghai, with her four-piece band.
The actress, who has starred in director Zhang Yimou's martial arts movie Hero and Wong Kar-wai's In the Mood for Love, has long been retired from the limelight after she won the best actress award at the Cannes Film Festival for her role in director Olivier Assayas's movie, Clean. Since then she has shifted to film editing, music and painting.
Modern Sky, the country's largest indie record company, which inaugurated the festival in Beijing in 2009, announced its record deal with the 50-year-old actress this March.