The first group coming-of-age ritual at Beijing Confucius Temple and Imperial College took place on Thursday, when more than 300 senior high school students from Guangqumen Middle School participated in a traditional ceremony paying homage to Confucius and their parents.
The students will participate in the national college entrance examinations in June.
Some of the students wore traditional Han clothing and took part in a complex procedure that included the donning of hats or hair clasps to represent adulthood, kowtowing to their parents and chanting paragraphs from Confucian classics.
According to Ji Jiejing, head of the department promoting ancient Chinese studies at the museum, the ritual is held to instill a consciousness of gratitude in the students and to help them establish great expectations for the future while strengthening their spirits.
More traditional coming-of-age rituals will follow this one, Ji said.
From the Yuan Dynasty (1271-1368) to the Qing Dynasty (1644-1911), Beijing Confucius Temple and Imperial College was home to the country's highest educational institution and was a place to pay homage to the famous educator Confucius (551-479 BC).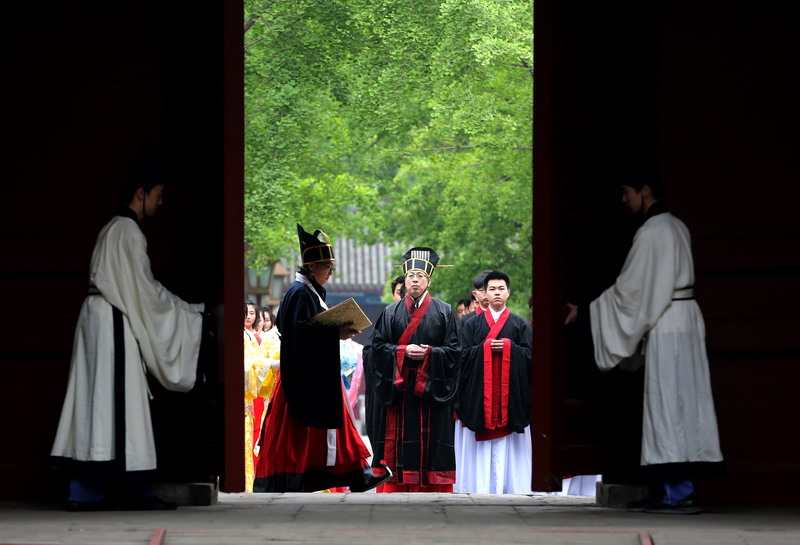 The first group coming-of-age ritual at Beijing Confucius Temple and Imperial College took place on Thursday, when more than 300 senior high school students from Guangqumen Middle School participated in a traditional ceremony paying homage to Confucius and their parents. [Photo by Jiang Dong/Asianewsphoto]