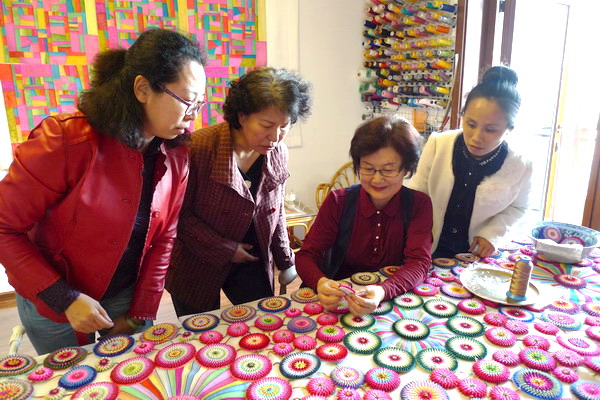 Jin Yuanshan tells the tricks of making a patchwork quilt to her friends who show interest in learning the handicraft. Photos by Zhou Huiying / China Daily
Jin Yuanshan has been making intricate patchwork quilts all her life, elevating this humble handicraft into a true art form. Zhou Huiying reports.
In Jin Yuanshan's eyes, odd bits of cloth are priceless treasures, which can be used to create beautiful patchwork quilts.
Patchwork is a distinctive yet common needlecraft where patches of regular or irregular shapes are sewn together.
Jin, 68, was born to an ethnic Korean family in Mudanjiang, Heilongjiang province.
Jin has long been an expert in needlework, which she was taught by her mother and grandmother.
"I showed great interest in handicrafts when I was a little girl, especially in needlecraft," Jin says. "My mother was a tailor and gave me lots of patches of cloth. I sewed many bags with the cloth and sent them to my classmates. My works were well received."
After her retirement in 1991, she threw herself into her patchwork, and has twice won awards at the China International Home Textile Design Contest.
Her work Beautiful and Luxuriant won second prize at the Tokyo International Great Quilt Festival in 2007.
Jin's designs have been featured in patchwork exhibitions held in Japan, South Korea and the United States.
She has twice been invited to South Korea to hold her own patchwork exhibition, in 2006 and 2009.
Her works are now collected by several artistic academies and individuals in these three countries.