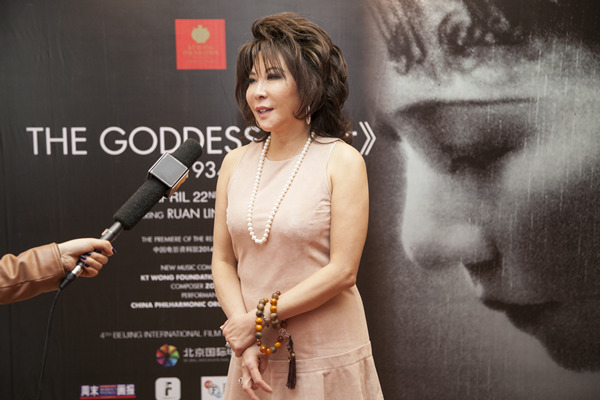 Lady Linda Wong Davies, founder of the KT Wong Foundation, talks about the digital remastering of 1934 silent movie The Goddess. Photo provided to China Daily
The charm of a classic Chinese silent film is renewed eight decades after it first hit cinemas, with a brand-new score and live performance in Beijing.
The Goddess, a 1934 silent classic, had its revival premiere accompanied by the China Philharmonic Orchestra on April 22.
It was a joint creative effort by the KT Wong Foundation, the China Film Archive and the British Film Institute.
Lady Linda Wong Davies, founder of the foundation, commissioned acclaimed Chinese composer Zou Ye to write a new score for the film, an iconic work in Chinese cinema's silent era.
"The foundation strives to promote artistic collaborations and exchanges that cross countries, cultures and disciplines," says Davies. "The screening of The Goddess is a great example of that. Through the hard work of those in both the Western and Chinese film industries, and the creativity of a modern composer, the radiance of this 80-year-old artistic treasure has been restored for this momentous occasion."
Zou, who has composed more than 100 works for TV and film, and is an honorary composer-in-residence at the China Philharmonic Orchestra, adds elements of south China's ballads and the local opera of Shanghai to the score.
"The Goddess took me back to the excitement of the early days of my creativity," he says. "I try my best to return the favor. If the old masters can hear my music from heaven, I hope they will be happy to give me a pass."
The CFA researcher Sha Dan praises the film as a milestone in China's history of silent cinema. Ruan Lingyu, the most celebrated actress in 1930s China, contributed a legacy in a marvelous portrayal of a mistreated prostitute and caring mother.
"Although the film was made 80 years ago, the theme of an underprivileged mother's love for her son is universal and travels across time," he says. "Ruan's acting, effortless but deeply touching, makes the film a real classic."
Hong Kong director Stanley Kwan is a fan of Ruan and made a film based on the actress' life - she committed suicide at only 25 after the tabloid press bombarded her private life. The picture won lead actress Maggie Cheung the best actress award at the Berlin Film Festival in 1992.