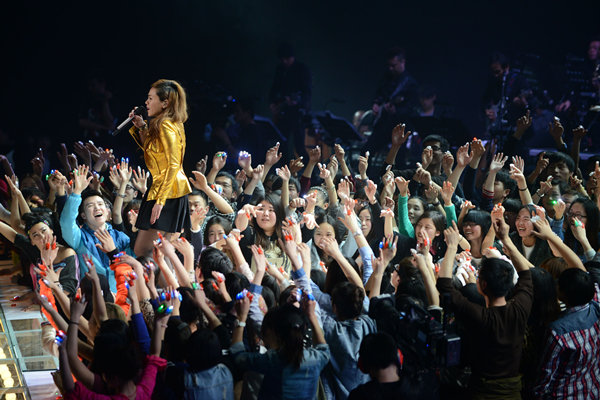 Sing My Song has attracted 480 million viewers since its premiere in January, and British ITV Studios will extend the show's popularity to a broader global audience. Photo provided to China Daily
The hit television talent show Sing My Song will reach the global market after a landmark deal with a British distribution company. Zhang Chunyan reports from London.
British ITV Studios Global Entertainment has signed a landmark deal to distribute China's talent show Sing My Song to the global television market. And ITV Studios will produce a UK version in the next two years, ITV Studios confirmed to China Daily on Tuesday.
This marks the first time that an original Chinese talent show format has been exported internationally.
Mike Beale, director of International Formats at ITV Studios, says: "This deal is a fantastic example of the benefits of a British-Chinese creative partnership."
"As a leading TV distributor, ITVS GE has a wealth of experience of distributing some of the world's most popular TV formats to territories around the globe. In Sing My Song, Star China has created a prime-time entertainment show with proven appeal to millions of viewers in the TV business' hottest market," Beale says.
Beale says the deal is sure to generate a huge amount of interest from international buyers.
ITVS GE is one of the world's outstanding international TV distribution, home entertainment, publishing, merchandising and licensing businesses. It distributes celebrated content across all genres from both its in-house production business, ITV Studios and collaboration with leading producers from around the world.
Sing My Song is a studio-based music contest, searching for the best original songs in China. Four of the music industry's most accomplished singer-songwriters share their experience and expertise as producer-judges, providing feedback and guidance to the contestants. The judges also have an important goal: Each is scouting for songs to be part of their own original music album.
The competition uncovers singer-songwriters who have the ability and talent to compose and perform their own songs.
The Sing My Song series has aired on China's national TV channel CCTV-3 since January, reaching 480 million viewers, with a total audience share of 37 percent in China and CCTV-3's slot ratings increased 59 percent year-on-year, according to CSM Media Research, China's leading audience measurement organization.