"Riverside Scene at Qingming Festival" is considered to be one of the most renowned Chinese paintings ever created. Since it was painted over 800 years ago, the original has been the target of emperors and upstarts.
Now, a 36-year-old tattoo artist A Wei (pseudonym) in Zhuzhou, Hunan province has made a tattoo version of it on the back of a man named Yang Zhengwei. With seven years painting experience, this is A Wei's first time to make such a tattoo.
"I like it very much," said Yang when speaking about the finished piece . After staring at the painting online for three days at his home, the 24-year-old decided to get it tattooed on his back.
"I arrived here at 10 am and went home after 9 pm over the past five days. I was more punctual coming here than I was when I go to work. Now that it's almost done, I'm really happy about it."
A Wei made a few adjustments of the painting so it could fit on Yang's back, which is 50cm long and 38cm wide.
In the original painting, which is over five meters long, there appear hundreds of people, about 28 boats, 60 animals, 30 buildings, 20 vehicles, nine sedan chairs and 170 trees. The original painting is kept at the Palace Museum in Beijing's Forbidden City.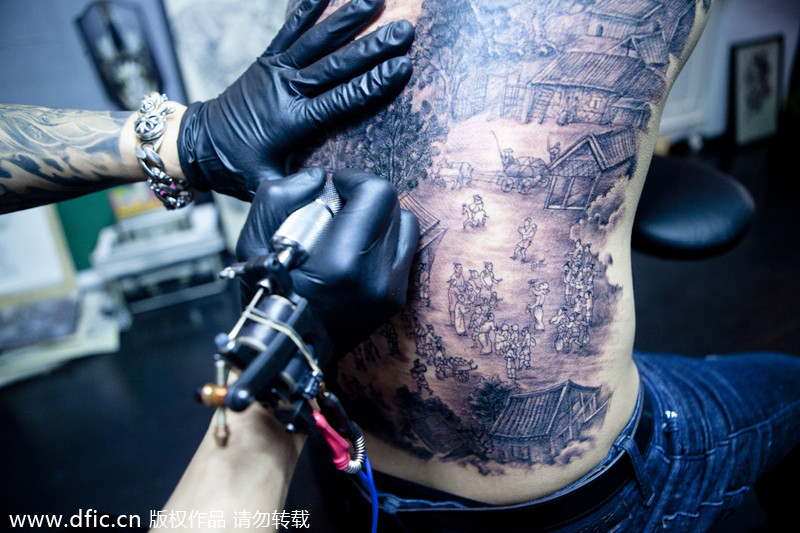 A Wei (pseudonym) tattooes the back of Yang Zhengwei with the image of the classical Chinese painting "Riverside Scene at Qingming Festival" on April 17, 2014, Zhuzhou, Hunan province. [Photo/icpress.cn]