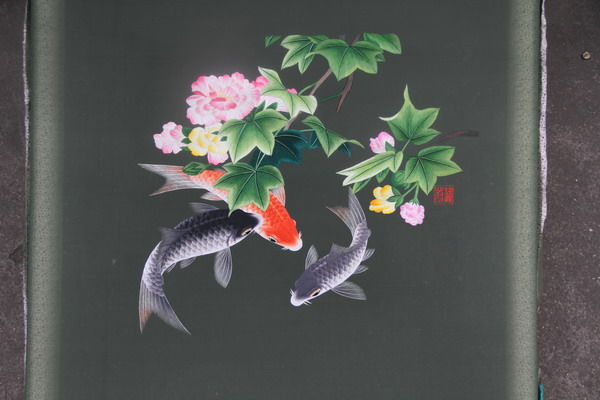 Flowers and Fish, Shu embroidery by Peng Shiping. Provided to China Daily
Shu embroidery, one of four regional schools of ancient needlework in China, captures images that are timeless. But the craft may be a dying art form, Huang Zhiling reports in Chengdu.
Monkeys frolic on trees. Tigers stroll in the mountains. Carp swim in water. Giant pandas and red pandas rest beside transparent lakes. These intricate figures-as well as people in traditional Chinese attire-come to life on the satin and colorful threads of Shu embroidery.
Stepping into Peng Shiping's home on the sixth floor of an old residential quarter in downtown Chengdu, Sichuan province, visitors feel like they are in a museum of this fine craft.
One of the needleworks depicts Sima Xiangru and Zhuo Wenjun on one side and two pandas on the other.
Sima and his wife Zhuo, who are household names in Chinese literature, lived in the Western Han Dynasty (206 BC-AD 24). They are famous for their romance in feudal China, when men and women had no freedom to choose their spouses, and men met their wives for the first time at their wedding.
When Sima was invited to dinner in Zhuo's home by her father, a rich merchant in Qionglai, Sichuan, he played music on a seven-stringed plucked instrument. The melody touched the young widow's heart as she listened to the music while hiding behind a screen.
She eloped with him and they married.
Together with Suzhou embroidery in Jiangsu province, Xiang embroidery in Hunan province and Yue embroidery in Guangdong province, Shu embroidery is one of the four schools of embroidery in China. "Shu" is the ancient name for Sichuan.