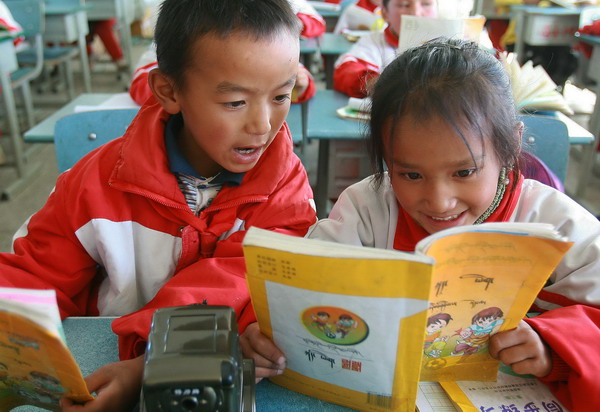 Primary students read their Tibetan textbook in Xigaze, the Tibet autonomous region. China Photo Press
Preserving the Tibetan language is integral to keeping the culture alive, but as new words creep into the vocabulary, many linguists fear for the future. Xinhua reports in Xining, Qinghai province.
Pu Tsering, a good-natured primary school teacher, is very strict when it comes to the Tibetan language.
"We should speak standard Tibetan," the 37-year-old language teacher often tells his students at a boarding school in Yushu, a Tibetan autonomous prefecture in Northwest China's Qinghai province.
"As a Tibetan teacher, I'm responsible for preserving our mother tongue," Pu Tsering says.
When he goes to the bars and cafeterias in town he insists on asking for "maqepu chang" when all his childhood friends say "Yellow River Beer" in Mandarin. He hopes to keep his own Tibetan pure and set an example for his students.
"Many new words - such as iPhone, iPad and Twitter - do not exist in Tibetan," says Yeshi Soiba, a native of Yushu who graduated from the University of Kent in England. "It's very easy to use the English words, so no one has bothered to make up equivalents in Tibetan."
Yeshi Soiba is a program liaison officer with the local government in Yushu.
He is fluent in Tibetan, and switches freely between Mandarin and English, languages he acquired at university. "I majored in environmental protection and community development, and it was extremely difficult for me to find Tibetan - sometimes even Mandarin - equivalents of terminologies."