The process of placing Tibetan medicine on UNESCO's intangible heritage list has started with the Ministry of Culture receiving supporting material from the Tibet autonomous region.
With roots dating back at least 2,300 years, Tibetan medicine is one of the world's four traditional medicines, the other three being Chinese, Indian and Arab.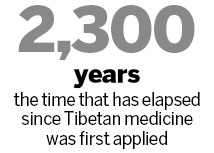 Similar to traditional Chinese medicine, Tibetans use herbs, minerals and sometimes insects and animal parts in their preparations.
The push for formal recognition began early in 2013 when experts from Tibet as well as Qinghai and Sichuan provinces formed an application committee.
The material, including white papers and videos, will be submitted along with applications from other provinces to UNESCO - the UN's Educational, Scientific and Cultural Organization - for consideration.
Tibetan medical services cover the entire autonomous region, with 19 specialized institutions and more than 50 county-level hospitals offering traditional care.
As many as 20 pharmaceutical firms are registered in the region and produce more than 360 kinds of Tibetan medicines, selling to the rest of China and beyond.
Tibet already boasts three entries on the intangible heritage list: The Epic of King Gesar (a 12th century heroic tale), Regong arts and Tibetan Opera. All were added to the list in 2009.