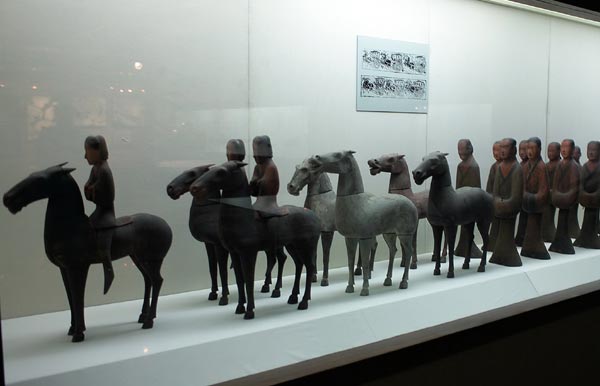 Burial objects,including servants and horses,unearthed from Sui's tomb are on display.[Photo by Song Jianchun/for China Daily]
When a more than 2,100-year-old corpse was unearthed from a tomb in Jingzhou, Hubei province, his skin was moist and flexible. All his limbs could move. His blood vessels were clear to see as if he had only just died.
This well-preserved male corpse discovered in 1975 is now one of the most important features in the collection of the Jingzhou Museum, whose researchers were involved in the excavation.
According to a wooden tablet found in the tomb, he died in 167 BC at age 60. A jade seal found in his mouth indicated his name was "Sui".
Sui was a government official, equivalent to today's deputy mayor. He suffered numerous illnesses when he was alive. Sui was found inside the smallest of three coffins, each inside the other. Wooden figurines representing servants and horses and brown coins were also found in his tomb.
After being buried deep under the ground for two millennia, Sui's clothes, hair and nails had turned to dust, but his 32 teeth still remained white and strong.
Sui's body is considered better preserved than Lady Dai, a well-known female body found in 1971 at Changsha's Mawangdui, a Western Han Dynasty (206 BC-AD 24) tomb found in the adjacent Hunan province. The discovery attracted worldwide attention. But why the ancient corpse was so well preserved is still a mystery.
In some experts' opinion, its preservation can be partly attributed to some accidental factors. When Sui's coffin was opened, reddish fluid flowed out. Studies found the liquid was a mix of herbs, cinnabar and water.
"The underground water level is high in Jingzhou. Year after year, water penetrated Sui's coffin and produced this magic fluid," says Wang Mingqin, director of Jingzhou Museum.
The liquid mix of water with herbs buried with the body, also found in Lady Dai's tomb, is thought to be a possible natural embalming fluid, which would explain the incredible preservation of Sui's body. The tomb next to Sui's was his wife's. But nothing was left there except for some remains of her clothes.
Sui's body attracts lots of visitors to the museum every year. Even during the Spring Festival, there are more than 1,000 visitors every day, many of whom are from outside Hubei, says Peng Hao, deputy director of the museum.