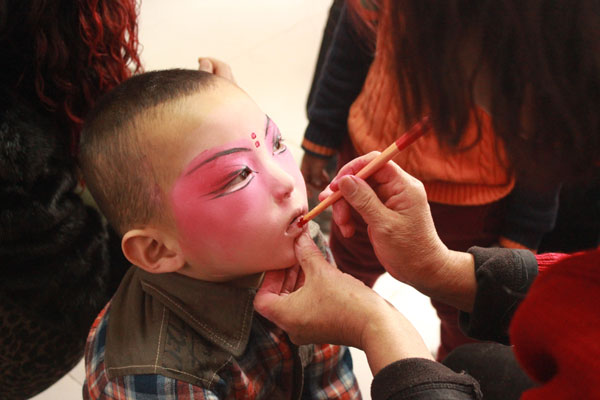 A child is putting on makeup for the naoge show in the morning,one day before the lantern festival.[Photo by Wang Kaihao/China Daily]
Another centuries-old tradition is at risk of losing its luster. Wang Kaihao traces the dying art of naoge, a unique pageantry.
They look like walking effigies when observed from afar. At a closer look, they are actually miniature moving platforms parading to the beats of drums and gongs along country roads - one day before the Lantern Festival, which falls on the 15th day of the first month of the lunar calendar.
Each man in the parade carries an iron frame fastened to his waist while two children wearing colorful costumes stand on the top. From time to time, men stop to dance, and children rhythmically wave their arms.
This is the scene in Tumd Left Banner, a county-level administrative region in the west of Hohhot, capital of the Inner Mongolia autonomous region. Lapu, the ordinary agrarian village about 50 km from downtown Hohhot, probably remains unnoticed by the outside world all year round, except during this three-day unique pageantry called naoge, which means "to highly carry an attic" in local dialect.
Shortly after sunrise, the high-pitch loudspeaker in the village announces repeatedly: "Anyone who wants to get up to naoge, hurry up!"
Parents take their children - ages between 3 and 6, squeezing into the village's small meeting room, which becomes a temporary backstage for the show. Some children appear excited to prepare for the dance after putting on facial makeup, while others seem a little nervous.
Hu Liangang, 62, is a fourth generation naoge performer in his family. He began his first contact with this folk art at the age of 6, standing on his father's shoulders.
"We are not worried about the children," Hu says. "Lapu kids were born with brave genes. After a few days' training, they will be brave enough to dance on the frames, equipped with protective devices.