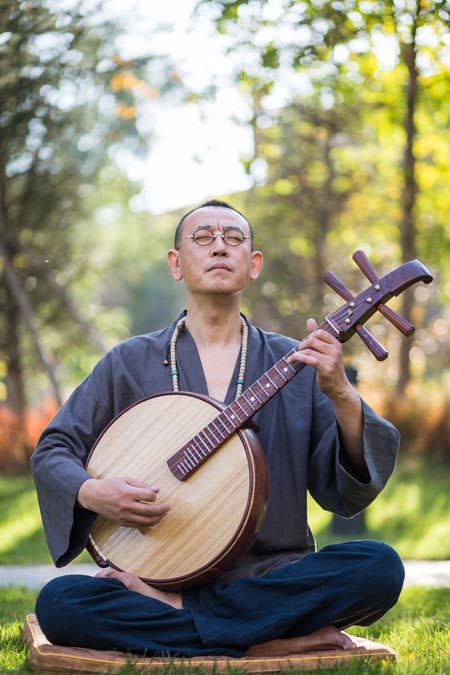 Feng Mantian, a ruan musician, believes in Buddhism. Photos provided to China Daily
On a summer night in August, 2,000 people filed into a concert hall in Hamburg, Germany, looking forward to a performance by a local jazz musician Joja Wendt. What they didn't expect, was to be blown away by a guest performer from China, Feng Mantian and his ruan, a Chinese plucked-string instrument with a history of over 2,000 years.
When Feng finished the last note of his original composition, Tian Gao Yun Dan, or Sky High Clouds Light, the audience paused for a moment, before erupting into applause, giving the musician a long standing ovation. Feng later jammed with the band and pianist Wendt, which had the crowd standing up and stamping their feet.
"It felt like the whole venue was about to collapse. I have never been so crazy onstage," recalls the 52-year-old ruan master. "I can speak neither English nor German so I screamed loudly onstage to express my gratitude and excitement."
Feng had been waiting for that moment for a long time. He has been a member of the China National Orchestra for 37 years and it has long been his dream to let Western audiences listen to traditional Chinese music with a modern twist.
"Many of my friends who are living abroad said traditional Chinese music is just the background music of restaurants in the West and tunes such as Jasmine Flower and Blossom on Spring Moonlight Night have been played there for decades," Feng says. "I felt ashamed when they asked me what traditional Chinese music sounds like today."