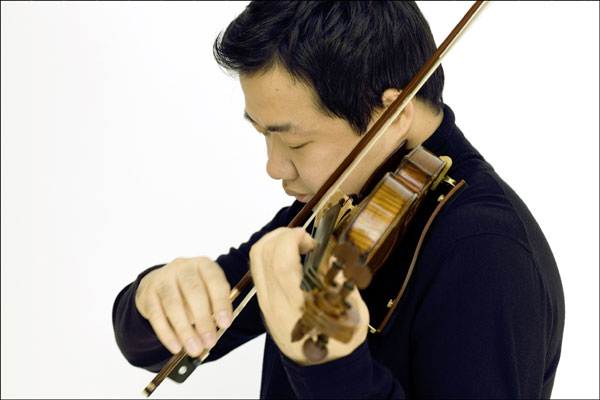 Violinist Ning Feng continues his exploration of selfexpression while he performs worldwide. Felix Broede / For China Daily
Violinist Ning Feng once saw a ranking of the world's 100 best romantic movies, which listed Charlie Chaplin's romantic comedy City Lights at the very top - ahead of The Bridges of Madison County and Titanic.
"I couldn't agree more," says Ning. "It's a silent movie and Chaplin used the most simple language to tell a good story - a man falling in love with a blind woman. You can feel the emotion and humanity from it."
When it comes to music, the 33-year-old believes that such pure passion is the best way to keep a musician active and inspired. That is why he keeps on recording studio albums and performing internationally - ever since he stood out among the world's myriad young violinists by winning first prize in the International Paganini Competition in 2006.
His latest album, which is his first collection of violin concertos, grew out of Ning's love for such works, especially the title pieces Bruch: Scottish Fantasy/Tchaikovsky: Violin Concerto.
"My very first experience of performing with an orchestra was in my high school, and I played Tchaikovsky's Violin Concerto," recalls Ning, who cooperated with Deutsches Symphonie-Orchester Berlin, under the baton of Yang Yang, chief conductor and artistic director of Hangzhou Philharmonic Orchestra. "I have played Tchaikovsky's Violin Concerto more than 30 times in my life. It's my first choice for a violin concerto album."
As for Bruch's Scottish Fantasy, Ning says he heard it when he was about 16 years old and he has always wanted to record it in his album.
It's not widely performed, Ning observes of the four-movement fantasy on Scottish folk melodies. "But it's a great work, and I want to share it with listeners. I have strong emotion for those two works."
After studious preparation from 2009 to 2011, Ning spent two and a half days in the studio at the end of 2012 and finished the album, including Scottish Fantasy in E Flat Major, Op 46 - Introduction: Grave (first movement) and Violin Concerto in D Major, Op 35, Allegro moderato (first movement).