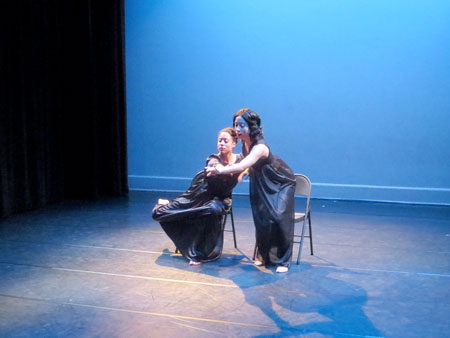 The semi-annual showcase Newsteps, at the Chen Dance Center in New York's Chinatown, has drawn talent from different backgrounds. Provided to China Daily
When the Taiwan-born dancer and co-founder of Chinatown's Chen Dance Center H.T. Chen arrived in New York in the late 1970s, he spoke limited English.
At the conclusion of his first day at the prestigious performing arts school Juilliard, a teacher reached to shake his hand and placed two subway tokens there, a small gesture he has never forgotten, he told China Daily ahead of the school's Newsteps choreographer series on Jan 17.
For more than 30 years, the school that Chen and his wife Dian Dong founded has served the Chinese community in that same spirit, nurturing dancers who in many cases could not otherwise afford the training.
"In the years since we started the school, I've been very, very moved to see so many Chinese families send their children to study dance with us," Chen says.
"As a kid in Taiwan, I never had those opportunities, and creating this school was to give the community a chance to look at the arts as a possible profession. I really believe that all good art has an important social value because, otherwise, artists are only creating for themselves."
Newsteps, the center's semi-annual showcase for emerging choreographers, celebrates the work of six young artists this year: Adam Wile, Jin Ju Song-Begin, Calen Kurka, Luis Gabriel Zaragoza, Hilary Brown and Briana Brown.
Although the school is predominantly attended by Chinese students, the couple has for 20 years hosted an open showcase that has drawn dancers and choreographers of all backgrounds.
"We've always had two communities: our community here in Chinatown, but also the dance community," Dong says. The two met while studying at Juilliard, and have run the center together since its inception in 1980.
"I make the messes, and she cleans them up," Chen jokingly says about Dong, who considers herself his "partner in crime", she says. Dong is fifth-generation Chinese-American raised in New Jersey.