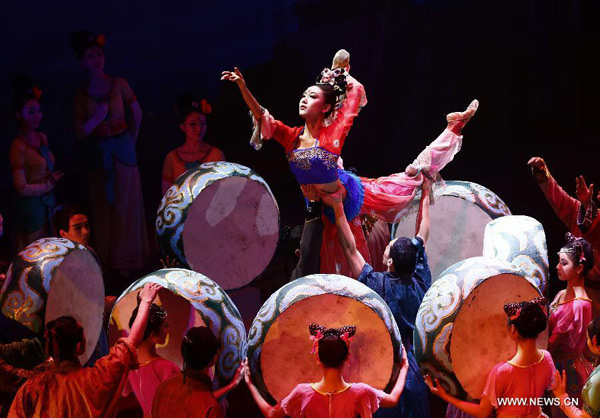 Dancers perform in the Chinese classic dance drama "Flower Rains along Silk Road" in London, capital of Britain, Jan 11, 2014. Featuring a focus on the prosperity and trade along the Silk Road in ancient China's Tang Dynasty (618-907), the dance drama tells the friendship between Chinese artist surnamed Zhang and a Persian merchant, and the love story between Zhang's daughter Yingniang and the merchant.[Photo/Xinhua]
Chinese dance drama Silk Road made its debut on Saturday night in London, bringing oriental artistic experience for British audiences.
The 34-year-old drama was performed by Gansu Dance Drama and Opera Ensemble on Saturday in the Peacock Theatre of the Sadler's Wells group, Britain's leading dance house. Another two shows will be given in London and Manchester from Saturday to Sunday.
Inspired by the landscape of Northwest China's Silk Road and the early Dunhuang Frescoes and performed by a 47-strong ensemble, the drama depicts a story of peace and friendship between Chinese merchants and foreign traders.
Set in the Sanwei Mountain, a place blessed with thousands of Buddhas and lit by holy lights, the performance follows a painter's daughter who is kidnapped after they help save the life of a Persian businessman on the Silk Road.
Liz Whiu, took her family to watch the drama said the drama was strongly characterized.
"The Chinese drama is fundamentally the same with the British, just with different characters. But the different characterizations bring different culture. It's very difficult to say what's the most enjoyable part, I'm just following the story, and the choreography and music are very well, and the contrast of the different elements and different move are very interesting," she said.
John M Cruickshank, a local lawyer, said the drama is colorful. "It seems familiar, as the theme of the story is not just Chinese, but universal."
Silk Road has been performed in 30 countries and regions and 400 cities to audiences of more than 4 million since it was created in 1979. It was adapted into a film in 1982.