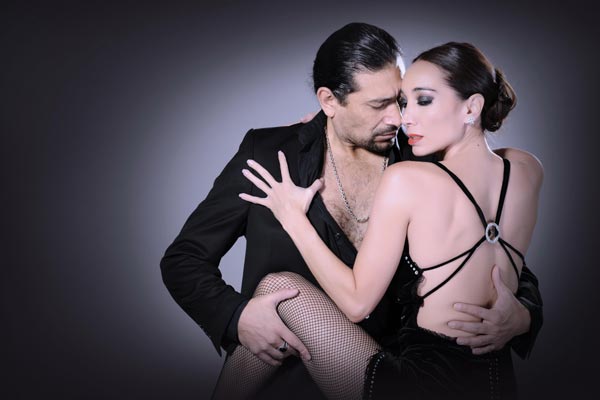 Argentinian Mora Godoy mixes classical ballet and modern dance in her tango performances. The "queen of tango" says she plans to host workshops in her future China tours. Photo Provided to China Daily
Glittering shows by masters of the dance keep Chinese audiences coming for more of this dramatic, sexy dance, Xu Jingxi reports from Guangzhou.
The "queen of tango" lifts a leg and slowly rubs down the leg of her male partner, a signature move that's guaranteed to quicken heartbeats in the audience. Then the clicking couple will show off their rapport as they swirl and sway across the stage. The dazzling footwork makes the black-haired woman in a sparkling sequined dress shine like a diamond. Mora Godoy, a contemporary star of Argentine tango, is proof of the dance's growing popularity in China. Her company's just-ending tour to nine cities here aims to present the authentic, sexy partner dance and stimulate the sprouting tango culture in China.
While her famous company bows out of the country with a final show tonight in Jinan, Shandong province, another tango company from Argentina, Tango Desire, is traveling across the country to 21 cities until Jan 29. The best-known Argentine tango scene for Chinese audiences may be Al Pacino as the blind colonel dancing with a young woman in the 1992 movie Scent of a Woman. Male and female tango dancers flirt with their legs, which are on ful display in Godoy's show.
But the choreography takes in more than traditional tango steps to make an entertaining, two-hour show.
"I mix tango with classical ballet and modern dance to create up-to-date tango. The old art needs innovation to stay alive," says Godoy, one of Argentina's most prestigious dancers and choreographers.
She studied classical ballet in Argentina and Russia, and was performing as a solo ballerina when she started to study and practice tango in the early 1990s.
Showcasing ballet techniques, such as lifts, splits and gyrations, on high heels or leather shoes, the dancers keep viewers on the edge of their seats with movements as thrilling as those in acrobatics or figure skating.