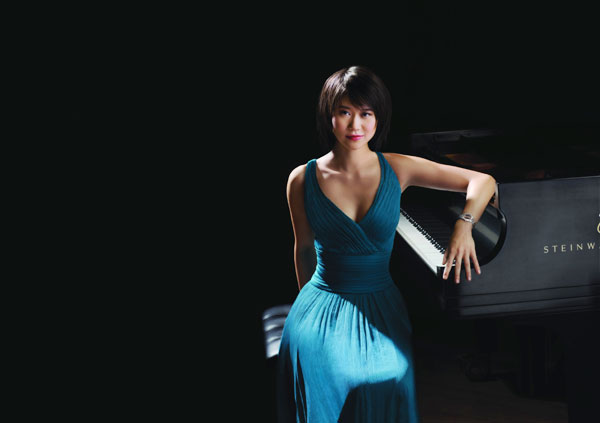 The "pianist with flying fingers" wows audiences with her deft and expressive interpretation of both dreamy melodies and brittle outbursts. Fadil Berisha / For China Daily
China's Wang Yujia will play 'the hardest concerto for pianists' in her upcoming concerts in Beijing and Guangzhou in March. Xu Jingxi finds out more about the greatly anticipated performance, a collaboration with conductor Daniel Harding and the 110-year-old London Symphony Orchestra.
It will be an explosion of talents in Beijing and Guangzhou in March when Chinese pianist Wang Yujia, British conductor Daniel Harding and the 110-year-old London Symphony Orchestra collaborate to perform in the two cities. The greatly anticipated program includes the two piano concertos from Wang's latest album - Rachmaninoff's Piano Concerto No 3, which is said to be "the hardest concerto for pianists", and Prokofiev's Piano Concerto No 2. It will also be an opportunity to honor Wang and Harding's respected mentor - Claudio Abbado, who passed away on Jan 20. The Italian maestro gave huge support for the two musicians at the beginning of their careers and helped them make a name in the world.
Rachmaninoff's piece challenges performers with almost all the techniques, such as exceedingly fast syncopation, heavy chords and grace notes rolling on the keyboard like pearls.
British pianist Cyril Smith (1909-74) once said that it required the strength of shoveling 10 metric tons of coal to play the concerto. The piece is not only physically challenging but also demanding on pianists' emotional expression since it incorporates a great variety of moods including sad, heroic, tough, jocose, happy and lost.
So difficult is the concerto that some noted pianists have declined to perform it. But the 27-year-old Chinese pianist has recorded it for her new album which was pre-released in the United States in October and was released internationally on Monday.
"Many people ask me which concerto I think is the hardest, and I really can't say. To play Mozart in a committed and convincing way can be just as hard as Rachmaninoff," Wang says.
"With Rachmaninoff, there are big physical challenges on the piano, just to move around and play the notes, but there is the bigger challenge of making the very long arc of the piece work. That's what is really fun."
Wang heard the concerto for the first time when she was about 11 or 12 years old and started her long-term exploration of the masterpiece.
"The more I play a concerto, the more layers unfold. It's like a long-term exploration. The greater the piece, the longer the exploration and with Rachmaninoff No 3, it's one of the greatest pieces that we have the privilege to play," Wang says.
The notes of the 45-minute concerto are so dense that the sheets look like pages in a phone book. But the thin, small pianist doesn't think it a problem at all to command the masterpiece.