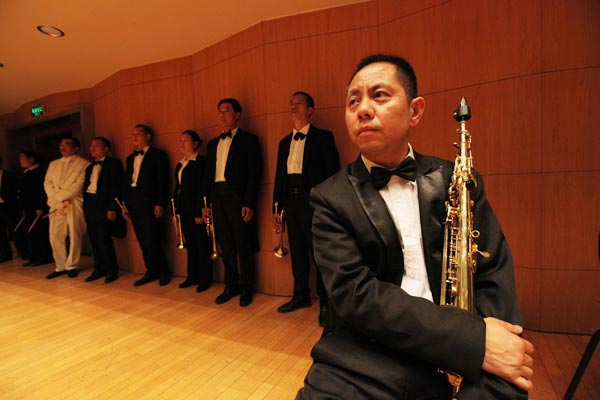 Members of the Beidou Village Farmer Orchestra wait for a rehearsal with the China National Symphony Orchestra in Beijing. Jiang Dong / China Daily
The Chinese Dream
After a lifetime of farming, members of a village orchestra arrive in Beijing with their French horns and trumpets - and a new outlook on life. Deng Zhangyu catches up with an unlikely band.
Three years ago, they were famers cultivating their land with hoes and sickles. Their daily life was all about planting corn and raising their families. Late last month, however, the 16 farmers from a village in Chongqing performed with the China National Symphony Orchestra at the Beijing Concert Hall, unveiling their new identity - the farmer orchestra from Beidou village.
Before the concert, Zhou Yongshu firmly gripped her French horn to her chest, hands shaking a little. The dress shirt and pants she wore were bought from a wholesale market. It's the fourth time Zhou wore her most expensive clothes.
Like her band companions from the village, Zhou was ignorant of musical notation until very recently. She couldn't tell the difference between a trombone and a trumpet, and she'd never heard of Beethoven before 2011. After less than three years' learning and practicing, Zhou can play more than 20 melodies.
The Beidou Village Farmer Orchestra performed two songs with the China National Symphony Orchestra and another two on their own at the Beijing Concert Hall on March 10.
"It's like a dream! I never thought that I could have the chance to perform on such a big stage," 43-year-old Zhou says.