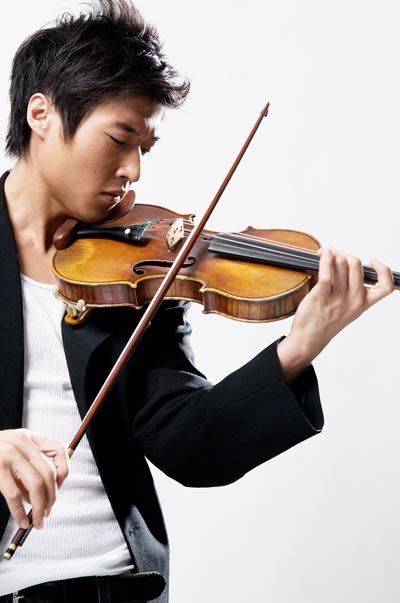 Violinist Charles Yang is part of a popular "musical video experiment" group. Provided to China Daily
In an online video, two musicians play the violin and the bass in Brooklyn, New York. Placed in front of them are several glass jars. One is labeled "slow down", one "fast forward"; others say "Lady Gaga", "Bach" and even "Michael Jackson".
As the two play, people drop change into the jars to indicate what they want to hear. The players zigzag between Lady Gaga and Bach, slowing down, speeding up.
Charles Yang is the violin player zipping away with Michael Jackson tunes. He is a Texas-born violinist involved in a music collective called CDZA, which is a "musical video experiment" group, as per its official website. The group has posted dozens of videos online, many of them garnering millions of views. Yang says that the project is exciting because it draws young people to classical music.
It is the playful side of the violin that interests Yang, which is why, as a student at the Juilliard School, he sat in on jazz lessons even though his curriculum as a violin major didn't require it.
"Everyone is really tied to seeing the violin as a really traditional instrument," he says. "That's fine, to see it in a traditional light, but to see what the violin can do is my goal."
Jazz, he says, has an element of improvisation that allows him and his fellow musicians to "be more creative" with classical music.
"We usually play a work that was maybe written a hundred years ago, so many people are playing very treasured historic works, whereas we found a way to bring modern music into the classical spotlight," he says.
But Yang was not always this enthusiastic about the instrument.
He even hated it for a time, as he was forced to play it by his violinist mother at the age of 3.
"She made me play. I had no choice. I can't remember when I didn't play," he says. "As a kid, for the longest time I wouldn't want to play violin at all. I hated it."