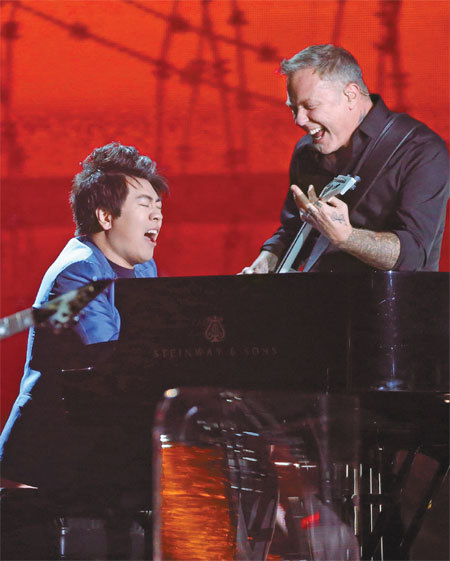 Pianist Lang Lang performs One with Metallica at the 56th Grammy Awards in Los Angeles, California, on Jan 26. The Chinese superstar continues to push the boundaries of classical music on the world's stage. Mario Anzuoni / Reuters
When Chinese pianist Lang Lang collaborated with hard rockers Metallica, there was a meeting of minds as well as musical
style
s. Chen Nan chats with the classical superstar and drummer Lars Ulrich about their new friendship.
Celebrity Chinese pianist Lang Lang was in his hotel room in Rome on the phone to Lars Ulrich, drummer in heavy metal band Metallica, when he made a promise.
"I will treat you to Peking duck and take you to get a foot massage when you come to Beijing," he said.
"Then we will hurry up and get there as soon as possible," Ulrich said, laughing, on the other end of the phone from his home in San Francisco.
The two musicians from totally different musical worlds consider each other "new best friends" after their successful collaboration at the 56th annual Grammy Awards, performing Metallica's classic song, One, the first single from their 1988 album ...And Justice for All.
During an exclusive interview with China Daily, they were still excited when recalling the experience. "Everyone is talking about our collaboration, even in Italy!" Lang says. The collaboration marked the pianist's first time playing heavy metal, which he regards as a "milestone".
After the Grammy Awards, he returned to what he knows best, touring the United States playing Mozart's sonatas and Chopin's ballads.
"Working with such a legendary band is a great pleasure," Lang says. "The first rehearsal saw our chemistry making music together. It's an incredible experience."
For more coverage on Lang Lang, click here