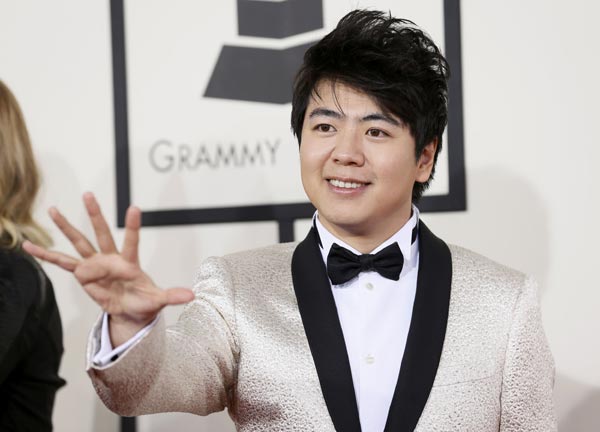 Pianist Lang Lang arrives at the 56th annual Grammy Awards in Los Angeles, California January 26, 2014.[Photo/Agencies]
CHARLOTTESVILLE, US -- Lang Lang, a renowned Chinese pianist, said that he will work to introduce Chinese music to the world and serve as a link between Chinese musicians and American audiences.
Lang, who presented his concert on February 14 in the Paramount theater in Charlottesville, a city in the state of Virginia, has gained popularity among the local audiences.
"The exchange between Chinese and western musicians will help Chinese music go to the world," Lang said in an interview with Xinhua.
"I want to introduce more Chinese musical elements into the pop music to attract young people," he said.
Instead of choosing such metropolises as New York and Los Angeles to give his concerts this year, the young musician preferred the medium-sized cities in the US states of Virginia, Kentucky and Ohio.
"The cultural characteristics of these places are more typical and the culture exchange between Chinese musician and local audience is more meaningful," he said.
During the concert, he performed a Chinese lyrics of "the Spring Festival Overture", which delivered a joyful emotion and greetings during China's lunar New Year celebration.
"As an 'envoy of Spring Festival' , I shoulders the responsibility of inheritance and promotion of Chinese culture," he said.
Lang was also actively engaged in combination between classical and pop music.
"I hope my music has been closely linked with the young generations, as well as the world's fashion," he said.
Dedicated himself to music and piano playing in particular, Lang said that a musician should have a wide range of knowledge and music theory, besides skills and stage performances.
"I won't stop making efforts on the way to be a piano master, who must be a combined figure of a performer, composer, conductor and educator," he said.