Shanghai label says green is 'in'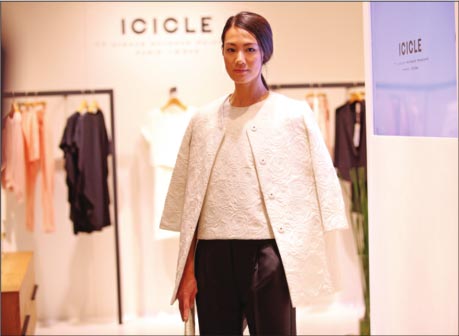 Shanghai-based Icicle is one of the first local labels striving to create an eco-friendly style. Photo provided to China Daily
Sometimes a small change makes a big difference. In the store of Shanghai brand Icicle, garment wrapping paper has been replaced by cotton bags.
"We found many consumers will throw the wrapping paper away, which is not environmentally friendly. So we created this way of packaging. They can use this cotton bag to store undergarments, stationery or something else," says Ye Shouzeng, founder of Icicle.
Shanghai Icicle Brand Development Co Ltd, which has more than 100 boutiques on the Chinese mainland, is one of the first fashion enterprises to bring eco-friendly ideas to its management.
The cotton bag is visible, but Icicle has done many things out of view to achieve the goal of being a green fashion company.
Traditionally, fashion makers will use polyester as material in a garment's lining. Icicle uses white organic cotton instead. It ensures the wearer's skin feels comfortable, and the product is safer.
Each garment's price tag is usually attached with a bit of plastic stamped with the brand's logo. But Icicle has used corn fiber instead of plastic. Buttons and other elements that are traditionally plastic are made with other biodegraded materials like shells.
French women's wear designer Benedicte Laloux, who used to work for Celine, Lanvin and Chloe, is in charge of the Icicle Paris line. A lot of people asked her why she chose to work for a Chinese label. Laloux says the brand matches her idea in fashion: comfortable, wearable, and most importantly, natural.
"I used a lot of milky, white and rosy colors to create a 'natural' style in the latest collection," Laloux says.
Thanks to a growing awareness of the importance of environmental protection, some of China's pioneering fashion companies are starting to go sustainable.
"Since China's fashion is comparatively later than in the Western countries, people who are involved in this industry paid much more attention to designs, styles and profits in the beginning, trying to catch up with world trends. They were not aware of environmental protection," says Ka Sheng, editor-in-chief with fashion magazine iLook.
"However, it is better late than never. We are very glad to see some local fashion companies making efforts to create an eco-friendly style."