Photo project preserves cheongsam culture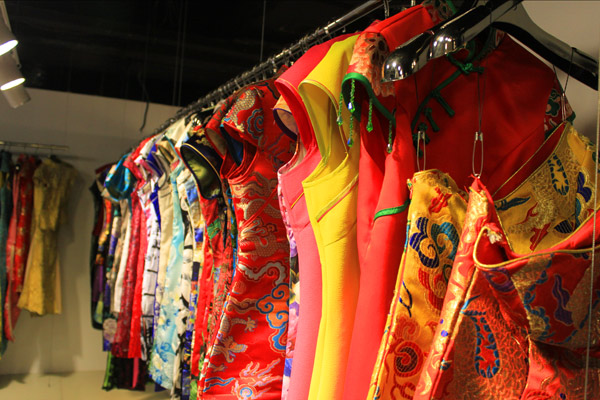 Cheongsam feature colorful and delicate embroidery. Photo by Lyu Shuang/China Daily
The New Photo Studio, which is located in Tianjin's downtown, attracts many young people who want to take wedding photos and fashion photo albums every day. However, on Saturday afternoon, a few old ladies walk into the studio.
With fine makeup, paper umbrellas and vintage high heels, they start practicing different gestures like hands on hips, looking down, turning around. Liu Jingchun, one of the ladies, has just celebrated her 70th birthday. Dressed in a white cheongsam, she strikes various elegant poses under the photographer's guidance.
The collective shooting was not quite a personal fashion album. They are participating in a special project called "Guohua-Global Chinese Cheongsam Image Giant Scroll".
Cheongsam, or qipao, the body-hugging one-piece dress, was often considered the quintessential national dress for Chinese women and popularized in the 1920s by daring activists, fashionable socialites and celebrities. After the founding of New China, it gradually faded away especially as modernization was battered in the period of the "cultural revolution" (1966-76).
Some worry the cheongsam will die out, but 50-year-old Liu Bing, a local TV host who co-owns the studio and initiated the project, is eager to promote Chinese cheongsam culture visually.
His interest in the cheongsam was inspired by the old photos of women wearing cheongsam which his grandfather, a former newspaper chief editor took.
He learned more old stories about cheongsam while working at the local TV station.