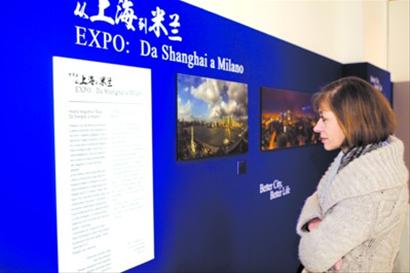 An Italian visitor enjoys the photography exhibition "Expo from Shanghai to Milan." 
Traditional Chinese dress Qipao and photographs of Shanghai were on display in Italy's fashion capital Milan on Monday to highlight the importance of relations between the two cities and endorse the passing on of the Expo torch.
The project of the "Charming Shanghai" exhibition, open to the public on March 22-30 in the heart of the Italian northern city, featured two sections: an exhibition entitled "Qipao", focusing on the traditional Chinese dress, and a photography exhibition entitled "Expo from Shanghai to Milan."
"Today we are inaugurating two beautiful exhibitions, which are an important sign of friendship between Milan and Shanghai," Milan Mayor Giuliano Pisapia said during the opening ceremony, in the presence of Secretary General of the International Exhibitions Bureau Gonzalez Loscertales.
The project, organizers explained, was an interesting occasion for Italian and international visitors of the exhibitions to get closer to China's culture and traditions as well as to its ongoing transformations.
The Qipao section illustrated the evolution of the traditional Chinese dress over the centuries through images and actual qipao, both antique and modern, reflecting changes in the role of women in the Chinese society.
The other section featured 160 images showing the development of Shanghai's urban spaces and citizens after hosting an event of global resonance like the world exposition in 2010.
In fact, Pisapia stressed, not only the "Charming Shanghai" project was organized in Milan on the occasion of the 35th anniversary of Milan and Shanghai's twin-ship, but it also was an important stage in the passing on of the torch between the two cities in view of the Milan Expo 2015, after his official visit to China at the end of November.