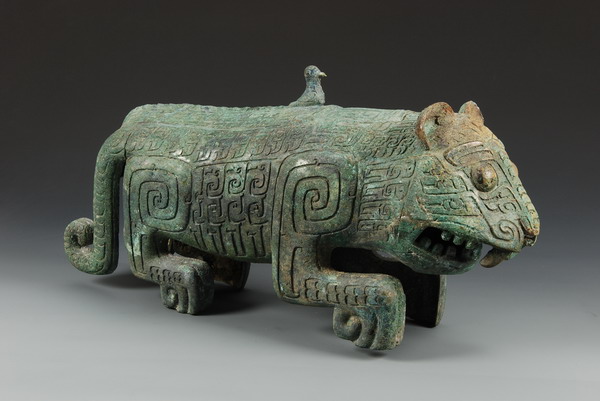 A Shang Dynasty (c.16th century-11th century BC) bronze lion. Photos Provided to China Daily
Jiangxi province is showcasing some of its most precious cultural relics at the Capital Museum in Beijing for the first time. Almost half of the 160 items are first-class national treasures. They include bronze wares, ceramics, jade wares, silks, calligraphy and paintings.
Interlocked with rivers and mountains in the hinterland of East China, Jiangxi was a pioneer in China's ancient ceramic industry, bronze manufacturing and silk making.
The first of the three sections in the exhibition is dedicated to bronze ware from the Shang Dynasty (c. 16th century-11th century BC), which were unearthed in Dayangzhou in Jiangxi in 1989. With 475 bronze weapons and agricultural tools, the discovery unveiled Jiangxi's social prosperity even before the Han Dynasty (206 BC-AD 220). It also provides abundant material for the study of the development of China's bronze ware.
A bronze cooking container, which is also the largest bronze ware from the Shang Dynasty, is exhibited. The container features delicate patterns and has two deer on each side of the top, showcasing the high skill level of that time.
"Unlike the bronze ware in North China, none of these are inscribed with words. They are more vivid and have a more realistic style compared to North China," says Cui Xue'an, consultant of the exhibition and secretary-general of the Beijing Museum Society.
IF YOU GO
9 am5 pm, untilMay 25. CapitalMuseum, 16 Fuxingmenwai Dajie (Street), Xicheng district, Beijing. 01063370491.