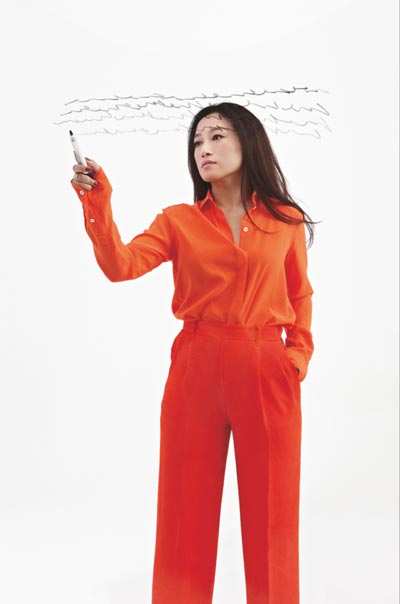 Pop singer Ai Jing, who was big in the'90s, is rediscovering artistic expression, painting her world with brushes rather than songs. Photo provided to China Daily
When Ai Jing, a popular singer-songwriter in the '90s, returned to the limelight after a long hiatus, she did so as a visual artist.
She held her first solo exhibition, I Love Ai Jing, at the iconic National Museum of China in November 2012. It was a big success.
She went for a massage shortly after the exhibition's opening.
"What do you do?" the blind masseuse asked.
When she said she's an artist and her works were on display at the National Museum of China, he asked: "Are you Ai Jing?"
He explained one of his clients mentioned she'd taken her daughter to the exhibition and enjoyed it, she says.
The museum's deputy director Chen Lusheng says: " (Ai) was the first Chinese contemporary artist to hold an exhibition here, and she's very special. The National Museum of China is better known for revolutionary history exhibitions than for modern art. But Ai's works are close to our audiences. And her theme, love, is shared by all."
Her installation work Spray joined the museum's collection in 2013.
The 44-year-old says the critical acclaim left her feeling both excited and lost.
"It was overwhelming as a newcomer to the art world. I didn't know what to do next," she recalls, sitting in her two-story studio near Beijing's 798 Art Zone.
"It was like when I made albums, I always wanted to get to the next one. Because if I stop, the albums I've made become history-memories. I'm embracing my new life as an artist and want to keep going."
Soon after the exhibition, she flew to New York and Paris to take painting courses. It was like the life she had when she first started studying painting in 1999 with acclaimed artist Zhang Xiaogang.