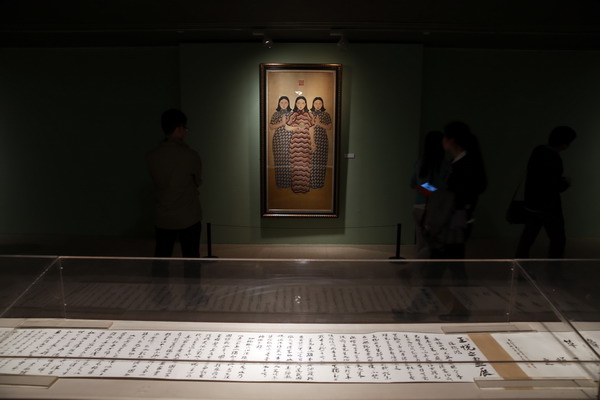 Adherents in Taiwan is one of Wang Yuezhi's signature works. Jiang Dong / China Daily
In 1982, the National Art Museum of China received a collection of 41 paintings from the family of late Taichung-born painter and educator Wang Yuezhi (1894-1937).
At that time, very few people, even professionals in art circles, had ever heard of Wang, let alone the roles he once played in promoting Western art and establishing the mechanism of fine arts education on the mainland, where he spent the last 16 years of his life.
Now the top art gallery pays tribute to Wang's long-forgotten contributions to Chinese art history by mounting a carefully curated exhibition, titled A Tender Affection.
The display of 47 oil paintings and watercolors include NAMOC's complete collection and some copies of privately owned works - almost all of Wang's surviving paintings.
The three exhibition halls are covered with wallpaper in emerald green, a way to indicate the "scholarly elegance and tender affections for the homeland" of Wang and his contemporaries, according to the museum's deputy director Xie Xiaofan.
Wang was among the first generation of Chinese students who studied art in Japan in the early 20th century. He believed the neighboring country's experiences in modernization would help China escape the shackles of the past.
Wang learned oil painting at Tokyo Fine Arts School. After graduation in 1921, he pursued further studies at Peking University. He co-founded the esteemed Apollo Society, the first academic group to study and teach Western art in Beijing.
"Wang assembled a unique art vocabulary by conducting a dialogue between Western oil painting and Chinese ink traditions under his brushwork," Xie says.
Wang's canvases show the influence of Post-Impressionism and Expressionism, and meanwhile he adopted the vertical composition typical of Chinese painting. His watercolors feature refined lines and simple color schemes to present a translucent effect.
If you go
9 am-5 pm, until April 24. National Art Museum of China, 1 Wusi Dajie (Street), Dongcheng district, Beijing. 010-6400-1476.