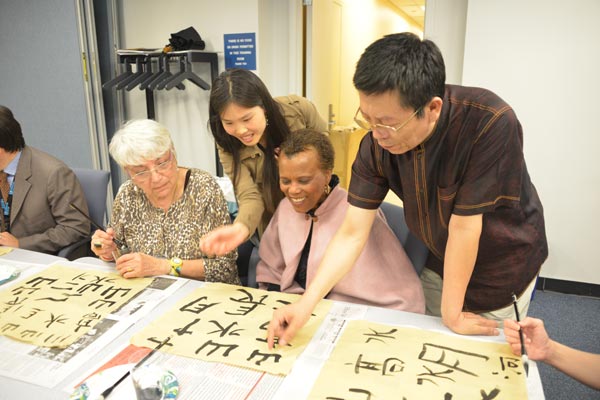 Zhang Xuguang (right) teaches Chinese calligraphy to staff of the United Nations. Provided to China Daily
A winding path through thick trees leads to a clearing with a villa. It is an unusual scene in the middle of a modern metropolis. Calligrapher and educator Zhang Xuguang, 59, considers his 2,000-square-meter studio hidden beside a busy road in the north of Beijing a wonderland of inner tranquility and beauty - at least before the surrounding area is overtaken by real estate developers.
The studio, Northern Lanting, is named after Lanting Xu (Preface to the Poems Collected from the Orchid Pavilion), one of the greatest masterpieces in Chinese art history created by 4th-century calligrapher Wang Xizhi.
Zhang, also the deputy secretary-in-chief of the China Artists Association, is busily preparing for his next visit to New York City to participate in the United Nations Chinese Language Day events, one of an annual series of activities to highlight the historical and cultural importance of each of the six official languages of the UN.
During his visits to the United States, Zhang met UN Secretary General Ban Ki-moon, who grew up in South Korea, a country with strong cultural influences from China.
"Mr Ban Ki-moon told me he was terrified by Chinese calligraphy when he was a child," Zhang says, recalling their first meeting in 2012. "Because his teacher told him it will take a decade to practice one stroke. But I guess the man became successful due to his perseverance, including his continuous practice of calligraphy.
"Ban emphasized that one attractive part of calligraphy is that there are many rules to follow, which may also echo today's international law, and added that calligraphy had brought him inner peace in the midst of his busy schedule and won him friends from afar."
One of Zhang's students is now Ban Ki-moon's regular calligraphy teacher. Zhang also holds the title of "distinguished professor" of the UN calligraphy class.