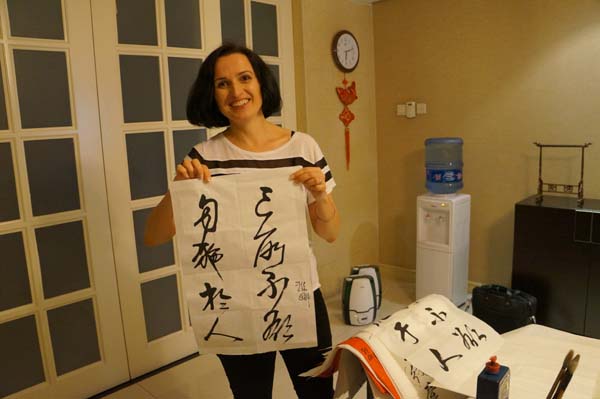 Czech graphic designer Jana Janeckova and her calligraphy scripts. [Photo/China.org.cn]
Jana Janeckova, the owner of Listdesign, a graphic design company in the Czech Republic, still rememberes the movie about Chinese calligraphy screened in Czech when she was a child.
According to her, calligraphy is so great that the movie was not simply about art, but even put forward some kind of religion.
"You need to hold your breath, focus, free your mind and relax, then you can express," Janeckova recalls.
Among the dexterous switches of the strokes, a completely alien culture unfolded in front of Janeckova's very eyes, giving her that first glimpse at the country in the Far East.
About two years ago, Janeckova eventually set foot on the land of the country she had seen only in the movies, as she moved with her husband and two daughters to Beijing, capital of China. It was there that her interest in calligraphy really took off.
"A French neighbor introduced me to a calligraphy teacher so that I could learn the art for two hours every Wednesday. I think it's a good way to learn about Chinese culture."
Accompanied by her daughter's piano, from which the soundtrack of "Forrest Gump" resonates through the apartment, Janeckova holds a brush and fills the rice paper with cursive script, a highly skilled art in calligraphy which requires a person's impeccable command of Chinese characters, especially the traditional ones. Although Janeckova only copied her teacher's style, her progress is astonishing.