Latest beauty meme clinches China at the waist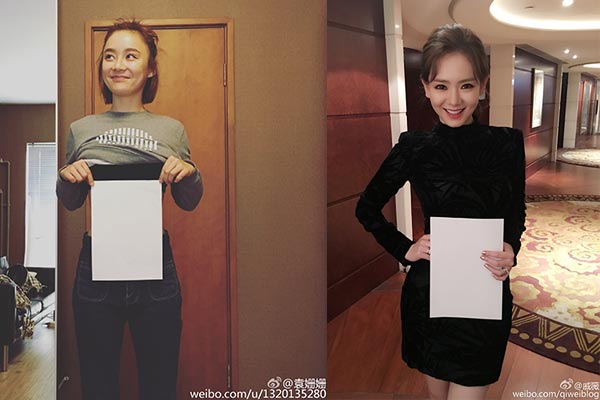 Actresses Yuan Shanshan (left) and Qi Wei. [Photo/Weibo]
A social media trend is sweeping those on the never-ending quest for the "ideal body" right off their feet.
In recent months, China witnessed several ways to prove one's top-notch shape, including placing coins on one's collarbone and the belly button challenge.
But that's so yesterday. The latest trend is the "A4 waist challenge" where women take photos with a A4-sized paper placed in front of their midriffs. If one's waist is completely hidden behind the paper, it is concrete proof that one has a thin waist.
Mind you, the A4 paper is 21 cm in width.
The A4 waist challenge started in China around February and has seen hordes of Chinese women, actresses Yuan Shanshan and Qi Wei among them, posting photos on their Weibo accounts to show their trimmed waistlines.
Weibo now has millions of photos with the hashtag #A4waist#. And just like its predecessors, the controversial A4 waist challenge has enjoyed its share of temporary stardom and plenty of mockery.