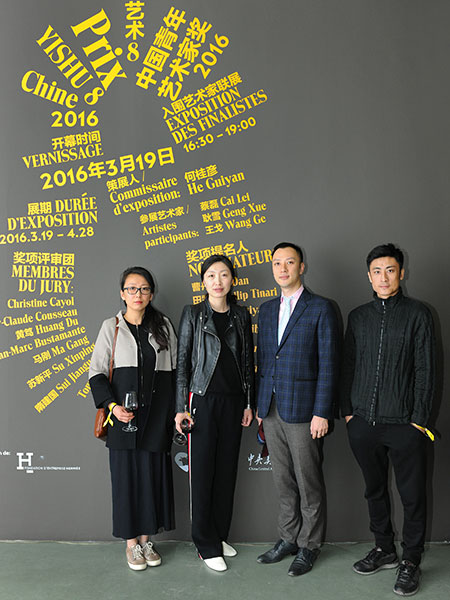 From left to right, Geng Xue, Wang Ge, Hermes China Senior PR Manager Benny Zhu and  Cai Lei (1st from right) present at the awarding ceremony held at former Sino-French University on March 19, 2016. [Photo provided to chinadaily.com.cn]
Geng Xue, one of the three young Chinese artists who stand out among a group of academic peers, has been awarded the Sino-French art honor, Prix YISHU 8·Chine, at former Chinese French University in Beijing on Saturday. Benny Zhu, representative of  Fondation d'entreprise Hermès - sponsor of the award, announced the winner.
"Geng's porcelain installation project originates from her love for traditional Chinese culture. Her works has endowed in Chinese culture a distinctive oriental beauty. It is mysterious, dreamlike and surrealistic," said He Guiyan, curator of the three artists' exhibition on display at YISHU 8 Art Institute.
Unlike the finalists of previous years, who were all students, the three artists chosen this year, Geng Xue, Cai Lei, and Wang Ge – all are already established names in the art circle.
"The three artists' works are a representative of the individualistic characteristics that's typical in artists born in the 80s and 90s and the techniques and media they use for creation are diverse and spontaneous," He said.
Christine Cayol, founder of YISHU 8, said that the award jury is widening its horizon because they want to see more professional and creative pieces. "So we decided not to restrict our range only to students," Cayol said.
According to Cayol, Geng Xue will join the artist-in-residence program to create pieces of artworks in Paris, and in return, three French artists will come to China to create theirs.
YISHU 8 is a non-profit art organization founded in 2009. The Prix YISHU 8·Chine was founded in 2011 with the aim to provide a communicative and cooperative platform for Chinese and French young artists. The exhibition at YISHU 8 will last until April 28.