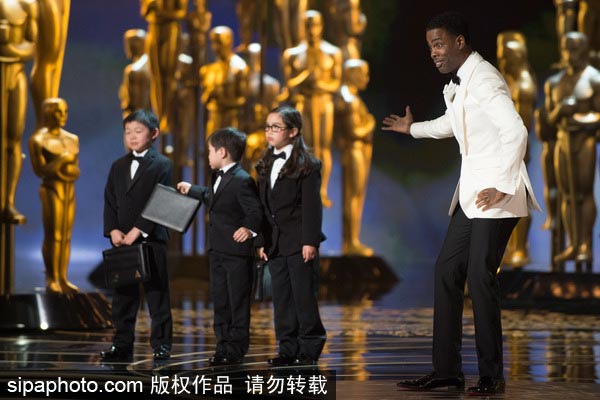 Comedian Chris Rock and three Asian American children at the 88th Oscars. [Photo/SIPA]
25 Academy of Motion Picture
Art
s and Science members of Asian descent have written to Academy leaders protesting "tasteless and offensive skits" mocking Asians during the 88th Academy Awards late February, according to
Los Angeles Times
.
"We are writing ... to express our complete surprise and disappointment with the targeting of Asians at the 88th Oscars telecast and its perpetuation of racist stereotypes," said the letter, signed by members including two-time Academy Award winning director Ang Lee, actress Sandra Oh of Grey's Anatomy, actor George Takei of Star Trek and former academy governors Don Hall, Freida Lee Mock and Arthur Dong.
The letter, addressed to academy President Cheryl Boone Isaacs, Chief Executive Dawn Hudson, the board of governors, and Oscar telecast producers Reginald Hudlin and David Hill, became public on Tuesday in a story by Variety, as the Academy's 51-member board was meeting for the first time since the telecast.
The awards ceremony was packed with racially charged material related to the #OscarsSoWhite controversy. In one, host Chris Rock introduced three Asian children as Academy accountants, followed by ad-libbed comments and a derogatory joke about Asians by presenter Sacha Baron Cohen.
"If you watched the Oscars the word diversity seemed to mean black and white. That was it," said Takei during an phone interview with Los Angeles Times. "We were absolutely aghast to see they compounded that by having a joke about Asian American children. How insensitive and how ignorant."
The Star Trek star said Asian academy members began emailing each other about initiating a protest the night of the show.
"I grew up in prisons behind barbed-wire fences largely because of those stereotypes," Takei said. "Asians were depicted as merciless villains to be laughed at. Now the stereotype is we're silent numbers counters or depicting child labor."