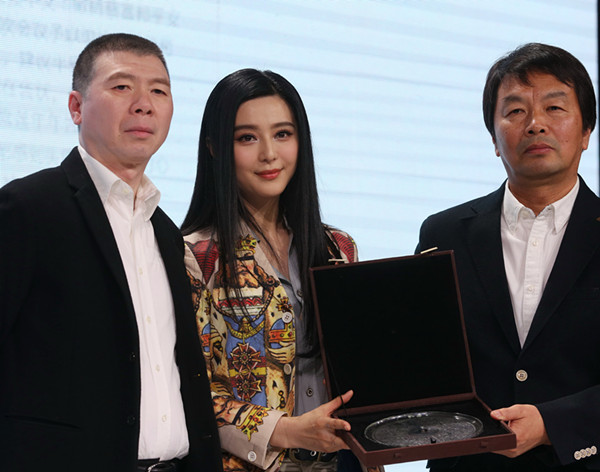 Director Feng Xiaogang, actress Fan Bingbing and author Liu Zhenyun at a promotional event in Beijing for Feng's latest movie I Am Not Madame Bovary.[Photo by Jiang Dong/ China Daily]
One of China's most commercially successful directors, Feng Xiaogang, once said his love for cinema was dying.
But that was probably just a passing thought, as Feng seems to have worked his passion into his latest venture, I Am Not Madame Bovary.
Adapted from best-selling novelist Liu Zhenyun's work I Did Not Kill My Husband, the movie is about a rural woman's 20-year struggle to earn society's respect after her former husband had tarnished her reputation.
The movie is set to open in Chinese mainland theaters during the Mid-Autumn Festival, which falls on Sept 19.
Unlike full features that take up an entire screen when shown, in Feng's new movie the scenes can be seen in circular images, mimicking the shape of a lens.
While most directors prefer to give their viewers an immersive experience, Feng says his "avant-garde" cinematography tends to remind audiences that they are outsiders spying on the joys and fears of characters in a fictional world.
He says that he does not care about offending audiences this time, after the many years he has spent catering to their tastes.
"I've directed many movies, with most of them being finished quickly. So why can I not spend three years on one film now? I want to focus on a worthy project," the 58-year-old Feng says.
Feng, who shot to prominence early in his career with a series of hit comedies, has often aspired to make cinematic breakthroughs in recent years.
This can be seen quite clearly in the disaster epic 1942, which Feng filmed "seriously" but disappointingly ended as a big box-office flop.
The film was released in 2012.
While Feng says that he has often faced rejection because he refused to be "a slave to the market", he hopes his new movie will make him a pioneer of sorts.
"It will endure the test of history. It highlights the importance of laws and systems, and reflects China's unprecedented transition and the people who have experienced the changes," says Feng.
The movie brings together Feng, the novel's author and the movie's scriptwriter Liu, and veteran actress Fan Bingbing 12 years after they worked on the 2003 hit comedy Cell Phone, the box-office champion that year.
Fan, who has received much international attention for her elegance at global fashion shows, says it's a big challenge to play the protagonist rural woman, whose cinematic image is quite the opposite of her glamorous persona.
"I had to change a lot for the movie, including my walking style and speech. And I also learned a dialect," she says at a promotional event for the movie in Beijing.