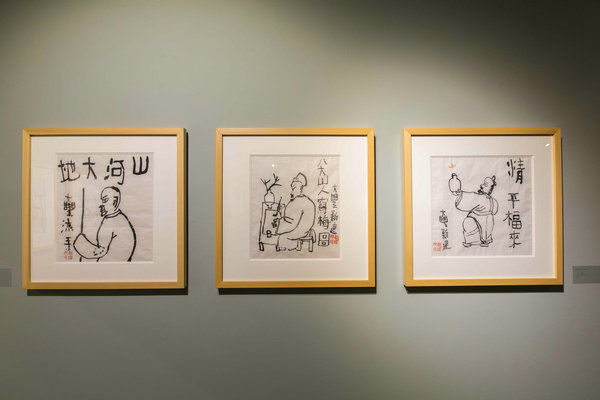 A Beijing show displays ink paintings late artist Zhu Xinjian created with his left hand, which some critics say are much closer to Zhu's artistic pursuit of simplicity and genuineness.[Photo provided to China Daily]
Zhu Xinjian's figure paintings are being exhibited in Beijing alongside a book on the late artist's works, Deng Zhangyu reports.
Two years after ink painter Zhu Xinjian's death, a show of his artworks is now being held in Beijing.
The exhibition, titled My Left Hand, opened on Wednesday, when the first volume of the book series - The Works of Zhu Xinjian - was also launched.
Zhu was known for erotic paintings and nude portraits of women in his signature rough strokes of ink.
Born in 1953, he rose to early fame in the '80s for his series of erotic paintings inspired by Jin Ping Mei (Plum in the Golden Vase), a novel on sexuality in the late Ming Dynasty (1368-1644).
The ongoing exhibition at the city's Gauguin Gallery, displays for the first time in public, more than two dozen ink paintings created by Zhu with his left hand.
After a stroke in 2007, the artist lost movement in his right hand.
Then Zhu started using his left hand to paint.
He liked to show off his left-handed paintings to friends, especially closer to his death in 2014, and was eager to hold a show to present them in public, says Chen Yan, his widow.
Zhu died before this wish could be fulfilled, although a retrospective show of his earlier works was held in Beijing's Today Art Museum weeks after he died.
"Zhu's left-handed paintings are much closer to his artistic pursuit of simplicity and genuineness. These childlike paintings are very interesting," says art critic Jia Fangzhou.