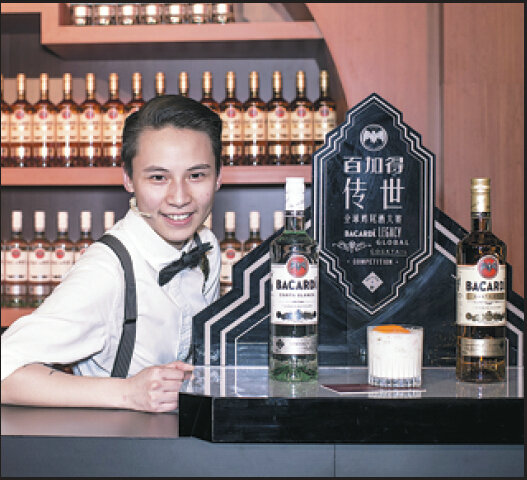 He Jiaying wins the second place at the China Final of Barcardi's fourth global cocktail competition.[Photo provided to China Daily]
Shanghai, one of China's most international cities, hosted the China Final of Barcardi's fourth global cocktail competition last week on the landmark Bund.
A local mixologist, 25-year-old Song Qiu, grabbed first place with a cocktail named Black Gold, which uses ingredients that grow in extremely difficult environments, such as ginseng and truffles, to echo both a bartenders' life and the competition's 2016 theme, "with untamable passion comes enduring legacy".
"I believe that we are like gold that lights up the nightlife in bars," says the winner, known at work as Choni Song, "We bartenders work at night, and as bartenders we must pay attention to details in order to understand and entertain our customers, to help them relax and feel secure, especially women customers."
Song will go on to represent China in the global final next month in San Francisco.
Twelve top bartenders from across the country, who stood out in regional finals held in Chengdu, Beijing, Shanghai and Guangzhou, showcased their bartending skills on March 17 and 18 at the national final, making cocktails of their own for a judging panel that included globally celebrated bartenders.
Leading up to the final, the contestants had been promoting their cocktails online and offline since December.
Bacardi rums, which originated in the Cuban city of Santiago in 1862, have been used to launch classic cocktails, including the mojito, the daiquirí, and the Cuba libre. The competition aims to inspire talented bartenders to make new classics that will be loved and remembered, according to Paul Chin, CEO of Greater China, North Asia and Oceania with Bacardi.
Having recently relocated to Shanghai, Chin often visits bars in the city after work, and has been excited to see cocktails enjoy increasing popularity among the Chinese.
The Chinese are embracing the life-style of relaxing and enjoying time with cocktails in bars or at home. Industry trackers show rums represent one of the fastest-growing spirits categories in the country. Chin says Barcadi wants to elevate the professionalism of bartenders, as well as the cocktail culture in both big and smaller cities.
Chengdu's Tian Yao, born in 1995, was among the youngest contestants at the national final.
Tian says he loves being a bartender because he gets to know various types of people, and it opens a new world for him.
Regular customers in bars are usually in their late 20s or 30s, and are often quite knowledgeable about cocktails, while customers under 25 often come to bars out of curiosity, he says.
Tian wants to work in Shanghai one day, because he believes Shanghai has the most agreeable cocktail culture and atmosphere in China.
He Jiaying, known as Bleu He in Guangzhou's bars, won second place.
Born in 1984 and the oldest of the contestants, He is one of only three women who made the final.
She has taken part in the competition three times, and finally made to the top three this year. Her entry was inspired by milk with ginger, a popular drink that has a long history in southern China.
"I like being a bartender, because it makes me feel energetic and free," He says.
Female bartenders are a minority in this profession, but the number is growing steadily, says He.
liuzhihua@chinadaily.com.cn