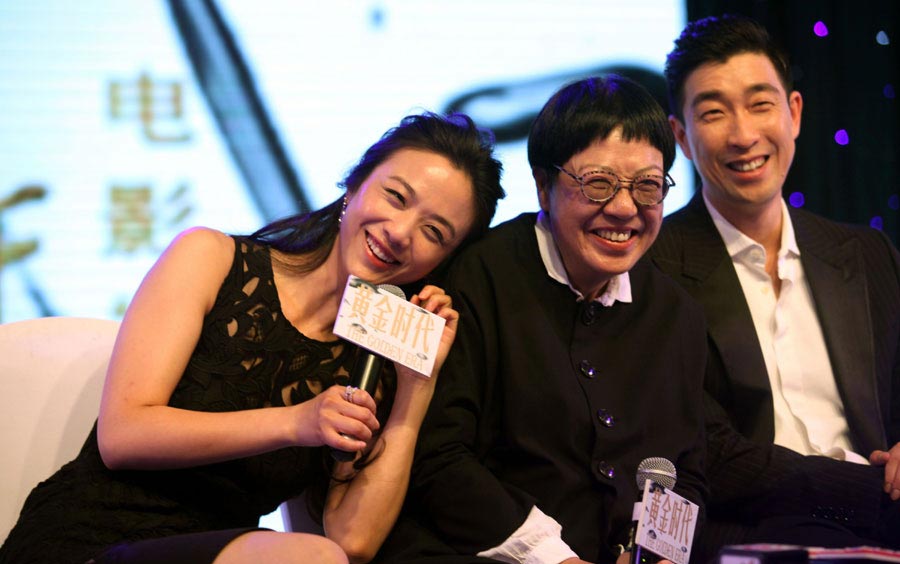 Director Ann Hui (center) promotes her new film "The Golden Era" with cast members Tang Wei (left) and Wang Qianyuan in Beijing on Tuesday, April 15, 2014. [Photo/CRIENGLISH.com/Handout]
Hong Kong film director Ann Hui told CRIENGLISH.com that her feelings towards her upcoming film "The Golden Era" are complicated.
"It is an experimental film, and I wasn't sure what it would turn out to be like," she said on Tuesday, April 15, 2014. "Having so much money invested in it made me feel nervous. But at the same time I am happy I did it."
Hui attended a press conference for the film on Tuesday in Beijing with cast members Tang Wei, Feng Shaofeng, Wang Qianyuan, Huang Xuan and Hao Lei.
Commenting on lead actress Tang Wei's performance, Hui said that she would leave it to the audience to be the final judge, although she added that in her opinion Tang did a great job.
The film explores the lives of Chinese writer Xiao Hong and her partner Xiao Jun before the founding of the People's Republic of China in 1949. The film will be released in China in October.